Delegation from FRB visited Lawrence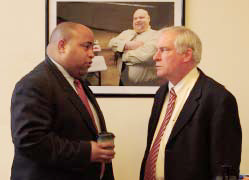 By Alberto Suris
            On Wednesday, February 19th, officials from the Federal Reserve Bank of Boston with President and CEO Eric Rosengren leading them, visited Lawrence to meet with Mayor Daniel Rivera and Superintendent of Schools Jeff Riley and a group of local business owners during a breakfast to discuss on how we plan to use the gift of $700,000 to the team of Lawrence CommunityWorks, Lawrence Public Schools, and a coalition of public and private sector partners from Working Families Initiative.
Rosengren was satisfied with the new leadership of the city and the support and cooperation received from non-profit organizations.  "We are convinced that cooperation and leadership is what makes a successful city."
            Jessica Andors, Director of Lawrence CommunityWorks, a nonprofit community development corporation recognized that lately, Lawrence has received a lot of bad publicity and this new coalition being formed might improve that poor impression.
"We've known from the outset that turning around the Lawrence Public Schools would mean engaging the entire community," said Lawrence Public Schools Receiver Jeffrey C. Riley. "That's what makes the Working Cities Challenge a perfect fit for the work we're doing, and why we've committed as a school system to supporting the Lawrence Working Families Initiative for years beyond the grant."
Reily, speaking about our students said that over 2,000 students gave up their vacation to get extra help in academics.  "Our kids are hard working students", he said.
At the breakfast meeting held at Union Crossing located at 50 Canal St. also attended representatives from Merrimack Valley Federal Credit Union, Lawrence General Hospital, Holy Family Hospital, Greater Lawrence Family Health Center, Northern Essex Community College, Merrimack Valley Workforce Investment, and Merrimack Valley Chamber of Commerce among other business and social service agencies leaders.
After breakfast, the delegation of the Reserve Bank, accompanied by Superintendent Reily visited the Wetherbee School and in the afternoon, toured the halls of the Greater Lawrence Family Health Center, located at 34 Haverhill Street, guided by their President/CEO Robert Ingala.