The Secret is Out!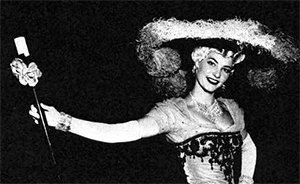 Originally published on April 1, 2008
(Mr. B shared an anonymous picture for several weeks asking if people could guess who she was.)
Jeanette Cockroft was recently recognized with the Methuen Village Lifetime Achievement Award by Natasha Heimrath, Methuen Village executive director.
In the ceremony held at the Methuen Village Assisted Living and Compass Memory Support, Ms. Heimrath praised Mrs. Cockroft's life, her ice skating career and her service to the community.
That's why we find appropriate to reproduce Frank Benjamin's article of April 1, 2008.
---
Did you try to name the woman in the picture? I know it created much conversation and guesses throughout our area. I got calls, met people who gave their guess and even at a wake people came up to me with their picks of people they thought it was. One guy Mickey Roy of South Lawrence swore it was my mother and I considered that a fine compliment because our lady was a beauty and so was Mom. I feel like I'm a presenter on the Academy Awards as I announce the Lady is Jeanette Lambert Cockroft.
She and her husband Joe now live in New Hampshire after growing up in the Water St. area of our city.
I hope that you had fun trying to name our guest in the photo and if so maybe we'll run some more pictures to check your memory file.
Jeanette and her family lived near the Merrimack River and the cold weather in winter found many people skating on the frozen surface and also sledding and enjoying themselves and to partake in the speed racing contests held periodically. On snowy days, the phone at the Lambert home would be ringing off the hook with people trying to find out if the Lamberts had shoveled off the area so the skaters could come by to skate.
Speed skating was a big sport in those days and Jeanette's brother became one of the best in the state. In 1948 Constant Lambert won a two mile senior men's race at Boston Garden in front of 18,000 people. The former Bruce School and Lawrence High School grad won a beautiful trophy as he came from behind to beat other skaters from across the State and from Canada. The trophy still sits in the New England Sports Museum in Boston today.
Her Dad Constant Sr. was her first teacher along with her older brother and they would take her onto the ice at three years old and each holding Jeanette's hands would take off as fast as they dared and her little legs would cramp and knot up but she wouldn't quit. Most kids at three years old would be on the ice with a chair holding them up but the Lamberts didn't know that this future Ice Follies star was just that – a star in the making.
Jeanette skated at all the outdoor rinks in the area such as Hillsies, the Mill Stream, Hayden Schofield and Sacred Heart Boarding School in Shawsheen before eventually finding her way to some indoor rinks in Boston where she met many advanced skaters who would help her on spins and her positions as well as poise. Her Dad and brother kept pushing her to use speed and get faster and this became one of the determining factors that she made the Follies at a Boston tryout. Jeanette had the capacity to retain any instruction and to implement new routines in her style.
At age thirteen she got her first figure skates after skating on tubulars form the start. She made sure she skated at least once a week year round and was practicing figure 8s and 3s as well as cutbacks.
At her first Follies tryout she got there a little late and as she put on her skates she saw many candidates already on the ice and it made her "slightly nervous." Taking no more than 5 or 6 strides the shows choreographer who was conducting the tryout stopped her and asked her name and told her to skate some figure 3s, cutbacks and stops and took her name and address. She was told "we might call you later" Jeanette felt this was a brush off and the tryout was over.
Since she was wearing her skates and she was on the ice she took off and did some spins and with her speed that she learned with Dad and brother she did a couple of spins and a waltz moves and a blistering backwards speed skates.
The Follies woman was back at her side again with questions about professional skating lessons and was astonished when Jeanette said she hadn't.
The lady, Miss Fran Claudet, told Jeanette to skate around the rink as fast as she could and as Jeanette says, "they must've liked my speed because the next            thing I know I'm signing a contract" and someone telling me to report to Providence R.I. next Wednesday. This started a seven year career that covered 20,000 miles per year throughout the United States and Canada, annually. Imagine all the traveling by train in those days the beautiful costumes and of course the hard work and training to learn the dances and shows that had her performing to millions.
Jeanette and husband Joe are both retired now, she from the Unemployment Service and he from Raytheon and have watched their three children become exceptional athletes. David is in the computer industry and travels all over the world. Son Mark and daughter Donna both attended and graduated from the Greater Lawrence Vocational School. Donna played basketball, volleyball and softball at the "Reggies" and is in the school's Hall of Fame and is still considered one of the areas top female athletes. She is one of the top dart throwers in the State and has traveled throughout the country competing in dart tournaments.  She and her husband are avid NASCAR fans.
Mark was also a three sport athlete including baseball, track and hockey in high school and was also named to the school's Hall of Fame and unfortunately the school cancelled the ritual after the induction sand Mark surely deserved the honor. He also became a semi pro baseball player and a slow pitch all star in softball. Mark and his wife Dianne have run a few Boston Marathons and she runs the Lawrence Retirement Board for the City.
I hope this edition about one of the city's outstanding families and the beautiful lady in the picture has brought you some warm memories. I am happy to accentuate the great female athletes of our area and hope to follow up with more. I think you'll agree that seven years in the Ice Follies qualifies our Jeanette as one of our city's all time greats.
Before I forget, after her Follies' days she volunteers her time to the Lawrence Recreation Department to teach the kids of our city skate and did this for many years. So you see her beauty was not just on the outside it was truly all of Jeanette.