SquashBusters presence in Lawrence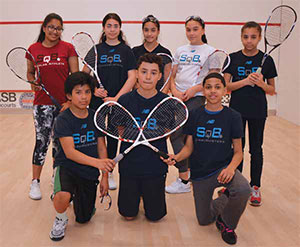 By Dalia Diaz
For the past five years, SquashBusters has been recruiting public school students in an after school program that takes them to Brooks School in North Andover, Phillips Academy in Andover, and Cedardale in Haverhill three times each week during the school year.  At this time, there are 85 students from 6th through 11th grade participating and the program is expected to grow to 100.  They attend Arlington, Wetherbee Schools, Lawrence High School, Abbott Academy, Greater Lawrence Technical School, Notre Dame Cristo Rey and Central Catholic High School.
SquashBusters' recruitment is voluntary and their effort begins with teacher input and then involves the family since they are key in encouraging their children in their success.  Not too many demands are placed on parents besides a $20 fee per family and attending a match sometimes to see what their children are accomplishing.  Then, they follow each student from middle school through their college life until they are 25 years old, documenting their progress and pitching in when they need help.
At SquashBusters programming, while the game of squash is "the hook," according to Dora Lubin, the program executive director in Lawrence, students spend half their time doing homework or receiving tutoring to assure their school success; the rest of the time, learning the rules and playing squash.  This is a fast-paced game similar to tennis but in a smaller court and a lot more active resulting in a great workout.  "One of the most important lessons they learn is how to show great sportsmanship, win or lose," said Ms. Lubin.  Each student participates in at least 4 matches or tournaments each year.
SquashBusters expects to have good communication with parents and their cooperation in scheduling dental or doctors' appointments that will not interfere with the student agenda.  Several times each year, they organize special events to celebrate together, including a potluck in November and an awards ceremony in June.
Unfortunately, a drawback is the attrition rate due to families' high mobility.  Each year they lose a few students when families move to another school or city.  They lose those players but for the child it becomes a bigger loss.
This opportunity comes to our students thanks to the generosity of the Lawrence Leadership Council of SquashBusters.