Central Catholic's Hall of Fame in 1985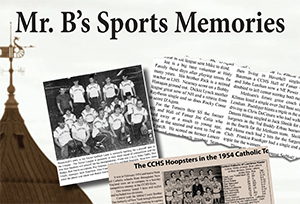 In 1985 Central Catholic celebrated its 50th year in the city and was naming a Great Hall of Fame as part of this great occasion. Pat McCarthy class of 59 was called Larry and was a 3-sporter.
He was a super baseball, football and basketball in his senior year he was an all scholastic and an all Catholic Conference choice in football. He was also named Central's outstanding athlete. Upon leaving the local school he became the qb for Holy Cross College and was named All New England qb three times.
Bill Bateman (1961) won honors in three sports as well, namely football, baseball, and hoop. He was named a Catholic League All Star and New England All Star in basketball and a Greater Lawrence All Star in football. Bill was named by the Archdiocese of Boston as an outstanding youth in 1951. He later became a teacher and is now retired from the Bruce School in Lawrence.
Winning the first ever Michael Garvey Award which was given to the most outstanding athlete at the school, Phil Perrino (1945) played football for Coaches Jim Jordan and Dick Moynihan four years hoop for Brother Leo Vincent, and he also ran track also for four years for Bothes Gilbert and Johannes. Phil captained both the football and track teams as a senior. He played major roles in football as his team knocked off both Johnson and Methuen giving those teams their only losses of the season. He became a State champion in track in his senior year. Perrino became a teacher for many years in the State of Maine.
Billy Gosselin (1946). In football, "Goose" as he was called, was named the best center in the Greater Lawrence area. He came from the Sacred Heart section of the city and his dad Sibby wanted him to follow his footsteps and become a lineman for the electric company, Bill became a lineman all right but only on the gridiron.
As a junior in hoop he scored more than 300 points a school record at that time and was named a league all-star that year his team's record as a junior and senior was 39 & 5. He played 3rd and ss in baseball and went on to play football at Arizona State. Later, after coaching Woodbury School in Salem he became the football coach and later Athletic Director before retiring with his childhood sweetheart to Salem, NH.
Brother Linus coached and taught at the Marist School for 36 years. He was a small guy in size but he made himself big to all his players and students. He loved hockey and the chance to put on the skates with his players when practicing either on the Merrimack River or at the Sacred Heart boarding school rink in Shawsheen.
It was he that talked the school to start a hockey program and they played a prep school schedule for several years. He then organized the North Shore Hockey League in 1947 which included CC and 8 additional teams. He also coached hoop and football.
Tony D'Agata played football, ran track and was a member of the Student Council and the Spanish Club. In his senior year he eclipsed Buffer Moynihan's scoring record as he tallied 105 points in football.
In 1964, he led the Raiders as the team captain on the gridiron the team recorded a 7/1 record. Tony scored an amazing fete as he romped to 5 touchdowns against Cathedral High School. He rushed for 940 yards for the year and nearly 120 yards per game. In outdoor track won the New England Catholic Championship in the 220 yard run as he led his team to a conference title in that event. Tony also played hoop at his school. He went to work for the NE Telephone & Telegraph Company in later years.
Kevin Mc Dermott (1976) was a football player and ran indoor and outdoor track. He was a starting tackle on the grid team for three years and a two way player as a junior and senior. He played for a team in 76 that was co champs of the Merrimack Valley Conference team that posted an 8-1-1 record. He played football for Northeastern University and U/Mass Lowell. He set a shot put throwing for his school with a 54'1" toss, and held Methuen field house record in that event with a 52' 8" throw.
These were the Central Catholic 50th anniversary inductees of 1985.