Shiva Ayyadurai spoke at the Library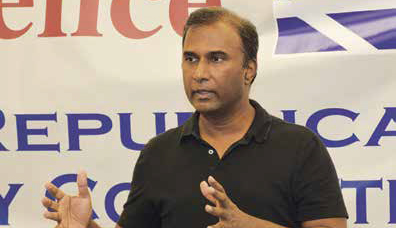 By Alberto Suris
Shiva Ayyadurai, a candidate for the United States Senate, addressed the Lawrence Republican City Committee at its August 10, 2017 meeting.
Ayyadurai, in his first campaign appearance in Lawrence, is running to face Elizabeth Warren in the 2018 election.
Shiva Ayyadurai is an Indian-born American scientist, entrepreneur and author born in Bombay, India, and immigrated to New Jersey in 1970 at age 7.
He attended MIT where he received four degrees: an undergraduate degree in electrical engineering and computer science; two master's degrees in visual studies and mechanical engineering; and his Ph.D. in biological engineering.
Ayyadurai is the Chairman & CEO of CytoSolve, Inc. CytoSolve provides a revolutionary platform for modeling complex diseases as well as for discovering multicombination therapeutics.
He lives in Belmont, Massachusetts.