Haverhill Native Conducts Information Warfare for U.S. Navy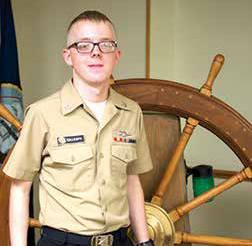 By Lt. Charity Edgar, Navy Office of Community Outreach
A 2014 Haverhill High School graduate helps protect America by delivering information warfare capabilities to the U.S. Navy as a member of Cryptologic Warfare Group Six.
U.S. Navy Petty Officer 3rd Class Tyler Gillespy is a cryptologic technician collection.
"As a Navy CTR, I write intelligence reports," said the Haverhill, Massachusetts native.
Gillespy plays a crucial role in defending against threats in support of the command's mission to deliver Information Warfare capabilities, such as signals intelligence and cyberspace operations, to the Navy fleet and joint forces.
Information technology advances at a staggering pace. Practically all major systems on ships, aircraft, submarines, and unmanned vehicles are networked to some degree. This includes most combat, communications, engineering, and navigation systems. While connectivity provides the military with speed, agility, and precision, it also opens numerous attack opportunities for adept cyber adversaries.
There is an inextricable linkage between signals intelligence and cyber operations. Signals intelligence helps inform operational commanders and forward deployed operational units in real time about the actions of adversaries and feeds directly into the Navy's understanding of cyber actors and their potential actions.
"Given today's environment of continuous growth in the information and technology realms, our information warfare missions have never been more important. I'm extremely proud of the Sailors and extended team who make our mission possible every day," said, CWG-6 Commander Capt. Joe J. Johnson. 
Members of the Information Warfare Community like Gillespy support the Navy's ability to maintain power projection, sea control and maritime superiority.
"The recruiter helped me get a CTR billet when I told him I wanted to get into the intelligence community. I felt like serving in that field would have the biggest impact because of everything that happens on a daily basis," said Gillespy of his decision to join the Navy.
Gillespy said he is proud to serve at the forefront of technology innovation and cyber operations, helping to protect America from threats around the world.
"In the past year I've had operational experience that I have enjoyed. I have been able to learn different aspects of other people's roles within the intel community," said Gillespy.
The future of U.S. maritime power depends on the Navy's ability to achieve its vision for cyberspace operations which is based on careful consideration of the threats, trends and challenges in cyberspace. The men and women of Cryptologic Warfare Group Six and Navy Information Warfare team stand ready to provide outstanding support to meet the Navy's mission on a global scale.