Guatemalans hoisted their flag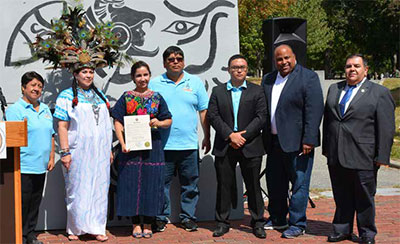 By Alberto Suris
On Saturday, September 2nd, the Guatemalan community called on Lawrence residents to raise their flag and give us a special presentation of their customs and culture.
It was the opinion of many of those who were there, that the presentation was one of the best, if not the best we ever have witnessed in a flag-raising ceremony in Lawrence.
Beginning with the work carried out imitating the wall of a Mayan ball court. Archaeologists have identified thirteen of them to play the Mesoamerican ball game being that of Chichen Itzá in the Yucatan Peninsula, Mexico, the most famous and best preserved in the Mayan world.
As information data, the Chichen Itzá field consists of 551 feet long by 230 feet wide. Compared to an American football field that is 360 feet long by 30 feet wide.
Also we must emphasize the explanation given by Maritza Jansen about those games and also of the Mayan culture as well as its dance and the special performance of Jossue Girón, The Golden Rancherito, the same that in the 2016 at only 8 years of age stole the hearts of judges and audiences in Telemundo Boston's La Voz Kids.
And as if that were not enough, before we went home after the ceremony ended, they presented the guests with abundant typical Guatemalan food as well as natural fruit juices, free of charge.