The DiMarca Tradition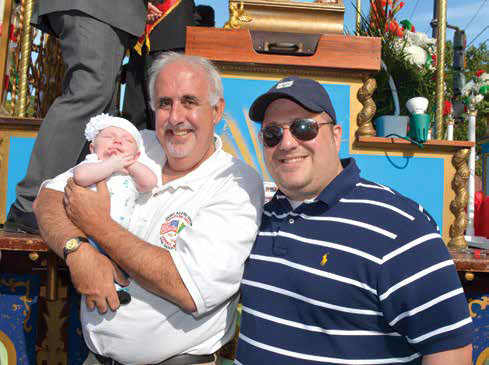 By Alberto Suris
This year, the Feast of the Three Saints celebrates 94 years and many traditions have begun during this time. Among them, the Sapienza family, three generations of them appear on our front page a grandfather, a father and a newborn baby.
Not only did the grandfather begin the tradition but he is part of the Society of St. Alfio's, the son who brought his little daughter, assuring with this that she, when she grows up, will maintain the tradition of her grandfather and her father and every year, together with others, will seek the guidance and protection of the three martyrs, Saints Alfio, Filadelfo and Cirino.
Another tradition that stands out in our cover is the DiMarca Tradition which already has more than 40 years of establishment. Every year, the Three Saints, on their way through the streets of Lawrence, make a very special stop in front of the house of Mrs. Agata DiMarca on Newbury Street.
Wanting to know who Agata DiMarca is, we went to see her son, Nunzio DiMarca to find out: "Agata DiMauro, my mother, was born on December 4th, 1917 in the town of Motta Santa Anastasia, Province of Catania in Sicily. She was the youngest of 5 brothers and 2 sisters," said Nunzio and continued.
"On February 14th, 1941 she married Don Andrea Giuseppe DiMarca and they had 4 children, Nunzio, Orazio, Anastasio and Carmelo. At that time, my mother had a sister living in Lawrence who wanted her family to come to America where there were many opportunities for everyone.
"Thanks to the help of then-Senator Bill Wall and Congressman Morse, good friends of my aunt's, the whole family was allowed to enter this country, something that was not easy in those days. We boarded the Saturnia ship bound for America, like every immigrant, full of hopes and dreams. I was 12 years old, Orazio 10, Anastasio 3 and Carmelo, the smallest, only 6 months.
"Within 3 days of arriving in Lawrence, my mother started working as a seamstress at Grieco Brothers, where almost all the employees were Italians. At lunch time, my mother went to the house to breastfeed my little brother Carmelo.
"Those were many years of sacrifice, where they, our parents were very attentive to our education. Those of school age, we went to Holy Rosary Grammar School on Summer Street, 6 days a week. The Director taught us English, besides, two of my brothers and I spoke Spanish.
"At first we lived on Common Street and later bought the house on Newbury Street where my mother still lives.
"Although for more than 40 years that we contributed financially with the Society of St. Alfio it was not until about 30 years ago that Carmelo, my younger brother and a group of his friends came up with the idea of making a roll with the dollar bills and passing it to the members of the Society, as seen in the photos. It was always determined that, since I was the eldest son, I would be in charge of passing the money.
"I have to add that since my grandson Nicholas Fosman was a child, he has been in charge of stapling the bills and for the first time, it was he who made the announcement and showed the money roll before passing it to my hands.
Needless to say, after passing the money to the Vara and leaving, we all gathered at home, family and friends to enjoy the food prepared by Agata, the granddaughter. We were over 30 and we had much to celebrate, in addition to one more year of a successful Feast of the Three Saints, we were celebrating in advance that on December 4, 2017 Agata, our mother, celebrates 100 Years!"