Mr. B's Sports Stories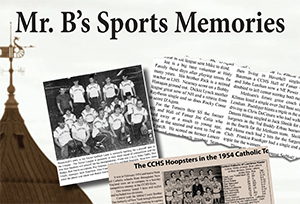 More Junior League Rosters for Around the 50's Tower Hill
Horace Coco also pitches for LHS, r Jimmy "horseshoe" McCarthy a LHS multi-sporter. Ralph Bellarado, a CCHS outfielder. Alex Sczarpa, an outfielder and great hitter for LHS his dad was a great blue and white star at the Lawrence school while attending. Fred Garon, Dick Camuso was a great athlete playing ss for CCHS and was a top track man in the State whose records still stand in track. Dave McCabe, Johnny Reusch was a great multi-sport star at LHS and was part of a star studded family from the Hill. Jack McCarthy, Bernie Ralph was a multi-sporter who would later Captain the CC football team, Ronnie Milauskus, Nick Turco, and speedy Sam Torrissi would play football at CCHS.
This is the Lions Junior League Team of this season from Prospect Hill.
South Lawrence West Lions Junior League
Donald Cruckshank, Al Dumond, Larry Yameen now a semi-retired realtor was an outfielder then Nat Bateman was an infielder for LHS, Joe Bateman was a 3-sporter and class president at LHS. John Kennedy was multi-sporter hi dad was the LHS Athletic Director, Bobby Minasian of Atkinson St. and the Wetherbee School and was an outfielder he's now a retired lawyer. Dick Hamilton was an infielder from Mt Vernon St. who later became the truant officer at LHS; he's retired now and lives in Florida.
Mike Logan was a multi-sporter at CC and lived on Newton St. He's now retired from UPS. Bobby Lippe was a catcher from Rowe St. he became an Alderman for the City of Lawrence and is retired in the State of Maine, Larry Klimas became one of the city's brightest stars in four sports and also as a coach, the fieldhouse in Methuen is named for this tremendous performer in all sports at LHS. James Jordan Jr. was the football coach's son and also played hoop and baseball for LHS.
Dick McDonald was an outfielder for CCHS and is now living at the beach after a great career as a State policeman in our State, Bob Burns was a tough nosed third baseman for the Lancers and later became a many term school committeeman for Lawrence; he still lives in the area. Ray Pelletier of Emmett St. was an outfielder; his son Mark has been the longtime baseball coach at CCHS for many years. Watch for more team rosters in this paper and you'll probably catch yourself saying "I didn't even know he played any sports at all."
More rosters soon.
Social Invitational Tournament June 1970
Twelve teams entered in the Social League invitational in June of 1970. This the first invitational tourney in this City in many years.
League President Gene Mc Auliffe and ASA Softball Commissioner George Simonian of the Eastern area will run the proceedings.
Three Lawrence Teams will be entered and all will see action on the opening night at the Hayden-Schofield.
Perdis, Funky Broadway and Turn Hall will play on the opening night.
Perdis will play the Micelli team of Wilmington, the Funky B'ways will battle Augustine's of Wakefield, Turn Hall will play the next day facing Sylvania of Salem. Kelley's of New Bedford meets the Maple Leafs of Salem Mass.
Lashes Lions of Gloucester, The Avalons of West Concord, will see action on Saturday/Sunday.
The semifinals are slated for Sunday at 1 & 3 pm, the final and championship game will be held on Sunday night at 7pm.
Dick Drummond pitched the Perdis to a Tourney opening 8-2 win over the Micellis. Dick was on his game and allowed only two hits to the Wilmington team. A triple by Don Gentile and a single by Ed Harrison as the visitors scored both their runs. The Perdis were led offensively by Drummond, Don Auger, Jim Pritts, and Bob Marchand. Dick fanned 8 and retired the last 14 batters of the game.
It took a comeback for the Funky B'ways to win against a strong Augustine team. The visitors scored 3 in the 5th to take a 5/4 lead over the locals. In the 6th Ed Aziz singled to start a mini rally with a single, so did Don McLeod followed with a hit scoring Aziz.
In the 7th the Lawrence team sealed it with a 5 run rally. Hannagan singles so does Joe D'Agata, Dick Lynch reaches on an error and the bases are loaded and the stage set for a winning rally. Rocky Conti singles in 2 runs an error sends in another run. Don McLeod hits a sharp single to score 2 more runs an it's the B'ways in a cliff hanger, 10/7.
Stan Ryan pitched the win allowing 7 hits, 3 by Veno. Joe D'Agata had 3 hits for the winners, Don McLeod had 2. The Lawrence Invitational in June 1970.