From My Corner: October 8, 2017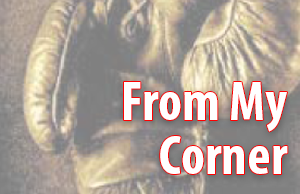 Rivera changes laws at whim
A couple of years ago, Richard Rodriguez, of the Commission for the Disabled in Lawrence, brought before the City Council a proposal to increase the fines for parking in a space designed for handicapped drivers to $300 as other cities have done. After a long struggle and many meetings, it was approved and went to the legislature for approval. That's the proper way because parking involving handicapped people is a matter of law.
But in Lawrence, Mayor Rivera thinks he is the almighty who can change the laws to his convenience and he made a new rule: Cars with out of state plates will be ticketed, even if they have a handicap insignia. Since the parking meters and its attendants are now city employees, they follow blindly the mayor's orders and no one dares to point out to him that what he is doing is illegal.
People have been getting $300 parking fines and apparently, they know the law. The city recently paid out $125,000 to a litigant and there is another case that will be heard soon by the courts in which the driver received six violations.
The issue at hand is governed under Massachusetts General Law, Chapter 44, Sections 22 & 22A. The relevant part of Section 22A specifically states:
"No penalty shall be imposed upon any disabled veteran or handicapped person, whose vehicle bears the distinctive number plates, …  bears the official identification of a handicapped person issued by any other state, or any Canadian Province, for parking such vehicle on any way for a longer period of time than permitted by said ordinances, by-laws, rules or orders."  
Any local regulation is unconstitutional under the Home Rule Amendment if it is inconsistent with the constitution or laws of the Commonwealth.  Under this case Lawrence's action of ticketing drivers with out of state handicapped plate would be inconsistent to the state statute. The only way Lawrence can supersede this statute is to pass a home rule petition to the state legislation which has not been done.  It seems there is an abuse of power by the mayor.
Rivera on the radio
Mayor Dan Rivera was interviewed on October 5, 2017 on the program Open Microphone with Carmen Chalas. After four years in power his Spanish is still very bad. I have to admit that his mispronounced words have a youthful sound and maybe that's why he does not care to learn.
I have to admit that there were no interesting and leading questions. Although it does not matter because he said the same things he has been saying in the last four years.
His first lie was, "They will not find me in a bar". I say it's a lie because he does not go to Bali's or another Latin establishment. He is to be sought in the Claddagh.
"William's people give me a bad image," said the mayor. He accused the "no-shows" that he fired as responsible for giving him a bad name.
"William has never done office hours at DeMoulas," the mayor forgot that William used to shop and keeps shopping at DeMoulas. But for four years he did "office hours" in front of city hall, in the park or on the bench in front of the superior court.
When asked why he had not fired Wendy Luzon who had to admit that she lied in her resume, he evaded the question by answering that Wendy made his administration come closer to God. That she is a person of God and is doing a very good job.
When they again touched on Wendy's subject, he replied: "That woman (Gilda Duran) was a bureaucrat; Wendy is from the church and has brought us closer to the churches."
I have read the description of Wendy's position. Bringing the churches closer to the administration is not part of their job.
A listener told him, "You are not the mayor of the city; you are the mayor of your people."
What are you going to do with this drug problem? That was another question. His response again was misleading with this response: "We are in times of war, the war of addiction."
One listener asked him what he responds to the family of Lee Manuel Viloria. "William's people turn everything into a political issue. "The matter of Lee Manuel hurts me a lot." Mr. Mayor, a death is not a "matter." He explained that "we should all be ashamed of ourselves." This man does not admit his mistakes; always accusing others of his own deeds.
As if by magic he turned the disaster of the school building and the demand that followed as an achievement because now the city is collecting rents. What he did not mention is that the city lost its judgment in court and had to pay Carmine DiAdamo 3 million dollars for which they consented and bought the building where the school department and the offices of Workforce Investment Board are now paying rent to the city. Nor did he mention the millions that cost the repairs.
The mayor was infatuated to buy the 300 Essex St. building and turn them into offices paying more than $600,000 for it. Since it is no longer needed, he now has it for sale at $500,000 after having spent about $300,000 on studies and renovations. His whim has been a tremendous loss for the city.
A teacher asked him what he was going to do with drug users and those indigents asking for money. Again he did not say anything, but he did report that there are days that we arrested 40 of those people. I immediately took note of this to verify how many people are arrested for drugs in this city on a daily basis. These arrests he referred to were during the summer and were mostly traffickers or criminals for whom arrest warrants were pending.
The mayor confirmed that he is going to sign the Residency Law and insists on making changes to what the voters chose.
Also he treated as achievements fixing 22 basketball courts, employed 23 policemen; and fixed the air conditioning of the public library.
He ended his interview with more venom when he accused those who criticize him for employing an inexperienced librarian and replied: "It hurts people's feelings that the librarian is Puerto Rican," fomenting division and hatred between Puerto Ricans and Dominicans. I hope voters do not believe that.
By the way, he said that Jessica Valentin is taking a course towards her Library Sciences degree but my sources tell me that it is not true. She is not enrolled anywhere.
But the most unpleasant low-blow was that William Lantigua eats in the grocery stores without paying clarifying that he does pay. His comment, although it was disdainful I think benefits Lantigua because Danny is not seen eating at any grocery store. Take a look at his spending account www.OCPF.us and you will see the good restaurants where he eats.