Reporting on Puerto Rico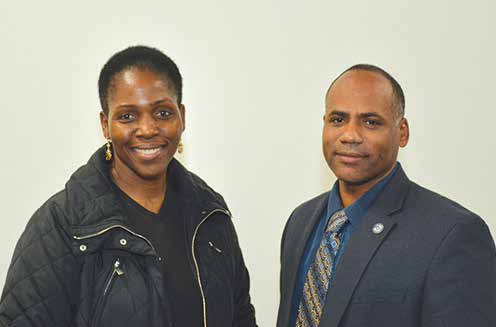 At a press conference held on November 6, 2017, Dr. Terika Smith of Terika Smith Ministries and Deputy Sheriff William Castro reported on the efforts United for Puerto Rico is carrying out.
Report of Deputy Sheriff William Castro:
Deputy Sheriff William Castro summarized what has already been widely reported. The result of Hurricane Maria and how it devastated the small Island of Puerto Rico, reason why, immediately, Mr. Daniel Guzman offered his building located at 530 Broadway to a group led by Dr. Terika Smith and Mr. Castro and turned it into a collection center for the donations that were expected.
"With our volunteers, we humbly ask our brothers and sisters in Massachusetts to donate canned food, water, baby supplies, batteries, flashlights and other items that will help our Puerto Rican people survive, until help arrives," he said. .
As we know, the response was amazing. For three weeks, hundreds of volunteers worked tirelessly sorting and packing the donations, which according to the report provided by Deputy Sheriff Castro is summarized as follows: 104 pallets of water; 5 pallets of rice; 111 pallets of mixed items, such as diapers and clothes for children, women and men, batteries, flashlights and 99 barrels of canned food.
Also Deputy Sheriff Castro reported that for reasons that the companies that are going to transfer the donations to Puerto Rico do not accept barrels, these had to be opened and their contents placed in 45 pallets, which makes a grand total of 265 pallets.
All these donations were collected by the National Guard during the week of October 6 to 13, which used 9 trucks to transfer the items to the warehouse in Worcester, for inspection by Homeland Security. All this, as is logical, has delayed its boarding to the island.
Deputy Sheriff Castro wants to express on behalf of Dr. Terika Smith, Daniel Guzman, the group of volunteers and on his own, his thanks to State Representative Frank Moran, because he managed to negotiate 2 commercial aircraft, donated by Governor Charlie Baker, to transfer everything donated to Puerto Rico, where there are volunteers from local churches who will help with the distribution to the most affected areas of the island.
Report of Dr. Terika Smith of Terika Smith Ministries:

With words similar to those of Deputy Sheriff William Castro, Dr. Terika Smith began her report, adding that the next day, Tuesday, November 7th; she would travel to Puerto Rico, where at 4:00 PM she would have a preliminary meeting with pastors of different churches to start planning the distribution of items on the island.
She also said that 3 people would travel with her that would join other two already there, adding that all these people have paid for their tickets, and that each traveled with two suitcases full of items of urgent need for immediate distribution. They will be joined by others until they reach nine to form two groups that would help in that distribution.
In her report on the money raised, Dr. Smith stated that in the account opened at Enterprise Bank in the name of United for Puerto Rico, about $22,400.00 was received and with that money they have paid $4,000.00 for the security of the donations.
"Massachusetts United for Puerto Rico was created in Boston after us, which has raised more than $4 Million. The proceeds from the Lawrence Public Schools, which was about $13,000.00, was sent to them as well as the proceeds from Power 800, about $6,000.00. Had we had that money, we would not have any need for government help," said Dr. Smith.
"As for volunteers on the island, the Boys Club of Puerto Rico have given us between 80 and 100 volunteers to help anywhere in the island and the pastors are 100% with Terika," said Deputy Sheriff William Castro.