New lives, new families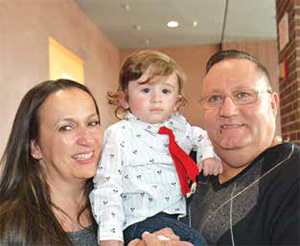 By Christopher Del Monte
Coffee, bagels, fruits and teas were being passed around. Children laughed, yelled, and played amongst each other while the occasional toddler worked the crowd, attracting attention while bumping into the legs of the many parents, social workers, attorneys, and judges who all worked together to prepare the children for a new tomorrow as the National Adoption Day ceremony was being recognized in their honor.
The sun penetrated through the transparent glass windows around the third floor of the judicial atrium at the Fenton Judicial Center on 2 Appleton Street, where the judges gathered round the podium, the flags of the United States and Massachusetts drooping behind them.
This past Friday, November 17, was National Adoption Day; a day where, for many children, mark the beginning of their lives.
"We [judges] just sign documents to make everything official, if you will," said Mary Anne Sahagian, a Family and Probate Judge for Essex County—the first female justice to service in this position. "But even before signing anything, you are all a family."
Soon-to-be adoptive parents from different perspectives and different walks of life came together to contribute to the lives of children who were once devoid of hope and a better tomorrow.
Chief Justice Mark Newman honored the parents who looked past the histories and traumas of the children they've chosen to accept into their homes. Judge Newman even took a moment to congratulate the same-sex parents who were present at the event for their contribution to adopting and building strong parental foundations and lines of support for their children. "Same-sex couples have done a major contribution to adoptive community," he said.
The event was considered a success. Not in so much because the event attracted a large crowd of professionals who work day in and day out to better the lives of children. It was all a success because new lives were established as children who were once never considered for a second opportunity in the first place were accepted in a new home occupied by people who are ready to familiarize new members of the family with the family love they've given to their own.
It's a day to remember for many—even for the staff who helped put it all together. "We worked together, as a family. DCF, the judges, the Clerk's Office, maintenance, Probation… we all made this event happen for the new families," said Grisel Lind, the judicial receptionist at Fenton. "We put it all together, but it wasn't us who made it successful. It was the children."
Christopher Del Monte is a CASA (Court Appointed Special Advocate) Supervisor.