POW-MIA chair at the stadium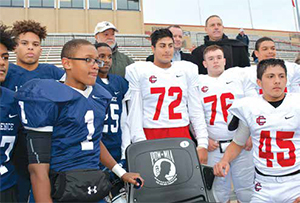 This chair was placed several months ago at Lawrence Veterans Memorial Stadium, courtesy of The National Veterans Foundation. On Saturday, November 18, the chair was rededicated and a bronze plaque placed by the City of Lawrence was unveiled at halftime of the Lawrence High School vs Central Catholic High School JV football game.
Speakers at the event were John MacDonald on behalf of The National Veterans Foundation and Council Vice-president Marc Laplante. Councilor Laplante made this possible on behalf of the City of Lawrence by contacting Andy Jimenez to unveil the plaque in his son's honor. Andy is the father of Alex Jimenez who was considered missing in action for over a year before his body was found near Bagdad, Iraq, in 2007.