From My Corner: December 1, 2017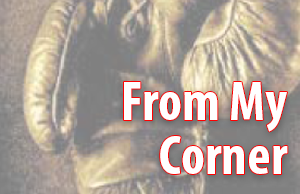 Boycotting WCEC 1490
In our front page, and later on pages 12 and 13, we have a list of businesses that were either advertisers or plan to advertise in the future on WCEC 1490 AM but are joining a group protesting the recent censorship.
The business cards that were not published in this edition will appear next week. Anyone who might want his or her establishment listed in support of this action should call City Councilor Brian De Peña.
There is enough anger in our community about having the daily programming blocked on November 6 and 7 (Election Day) due to complaints about the political talk on several programs. Most of these programs were supporting one mayoral candidate in particular.
The measure taken by Pat Costa and The Eagle-Tribune is a direct contradiction of what the First Amendment of the Constitution guarantees:
An attorney specializing on civil rights gave me a clear explanation of what's protected under the First Amendment. He narrowed it down to, "The First Amendment protects the speech we don't like because the speech we like doesn't need protection."
In some circumstances, the Supreme Court has held that certain types of speech are of only "low" First Amendment value, such as: defamation, true threats, obscenity, child pornography and commercial advertising.
In the case of commercial advertising, for example, speech advertising a product or service is constitutionally protected, but not as much as other speech. For instance, the government may ban misleading commercial advertising, but it generally can't ban misleading political speech.
Outside these narrow categories of "low" value speech, most other content-based restrictions on speech are presumptively unconstitutional. Even entertainment, vulgarity, "hate speech" (bigoted speech about particular races, religions, sexual orientations, and the like), blasphemy (speech that offends people's religious sensibilities), and violent video games are protected by the First Amendment. The Supreme Court has generally been very reluctant to expand the list of "low" value categories of speech.
But starting in the 1920s, the Supreme Court began to read the First Amendment more broadly, and this trend accelerated in the 1960s. Today, the legal protection offered by the First Amendment is stronger than ever before in our history.
Lawrence delegation
What bothers me most is the attitude of the Lawrence delegation on this issue of censorship. I sent them an email asking for a quote because we need to know where they stand; after all, they are supposed to be representing us and this is a big problem we are facing. What's going to happen next year being another election year?
State Representatives Frank Moran, Juana Matias and Diana DiZoglio as well as State Senator Barbara L'Italien have kept quiet, ignoring my request.
What a way to represent the interests of the people!
State Rep. Juana Matias
I think Juana is detached from the city she is supposed to represent. I recommend that she reads Rumbo more often to find out what really goes on here.
Wednesday morning she sent out a press release thanking Mayor Dan Rivera for his support in the Congressional race and she should have ended with just the "thanks." It reads in part, "And I am so grateful to have Mayor Rivera's support, who brought an unwavering work ethic toward ensuring Lawrence continues to move forward."
Ethic? Making promises he didn't keep about hiring "the best qualified individuals", hiring unqualified people for so many well-paid positions, firing qualified employees for no reason or without the benefit of progressive discipline to hire cronies, using DPW employees to do major repairs in his house and getting paid overtime on Saturdays by the city, and converting City Hall into a heaven for sexual deviants.
Juana, read Rumbo because I have been writing about all of those things that you don't seem to be aware of. And now, you call him "ethic"?
Theodoro is back
Theodoro Rosario is back to work as Projects Planning Supervisor at DPW and he came back with quite an attitude. He is confident self-assured and more arrogant and abusive than ever.
He was involved in a conversation on Facebook with Jennifer Lopez and others in which he said, in part, "…you are not homeless but the next time I'll take you…" This was in reference to the homeless man he took into a motel luring him with beer and cigarettes demanding sex from him. The man ran out of the room and called the police from the office, having Theodoro arrested.
Eight months later, the case went to court and it was dismissed because the homeless man didn't show. Rivera says that Theodoro's record is clean but the arrest is real and it remains on file.
Mayor Rivera's policy on crime
I hope you take the time to read my article on page 6 with an evaluation of recent crimes in the city and the mayor's reaction each time. He blames everything to the proliferation of drugs devoid of an investigation. The latest case of Hillside Avenue provoked the anger of law enforcement because he declared at the accident scene that it was "a drug deal gone bad" bypassing their responsibility.
I would appreciate an honest assessment once you read it.
Speaking of crime…
I tried getting information from the Commonwealth's website relating to the number of opioid-related deaths in Lawrence but the page is confidential and it doesn't allow anyone to access the data.
I just wanted to see if the numbers given by the mayor are accurate. I guess we just have to believe him.
Also, I regularly check the Daily Log at www.lawpd.com to compare how crimes are reported by the police to what really happened. On November 26 I sent a message to Officer Tom Cuddy asking why it had not been updated since September 18. The next day, it had been updated through October 13. They are still 45 days late making my job more difficult.