How Local Politicians Discriminate Against Minorities in Lawrence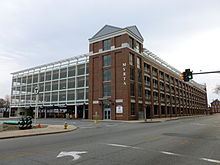 By Dalia Diaz
After reading the title to this article, you are probably asking yourself, how does a minority politician (or any politician for that matter) discriminate against its own in terms of transportation? It's simple and you must guard against it at every level of government work.
Race and transportation have long been intertwined, whether it is federally-funded highways that plowed through, or isolated, minority neighborhoods or local government in its attempt to control their local businesses.
In the 1980s in the City of Lawrence, there once was a Trailways bus station at the corner of Jackson Street and Common Street. It's no longer there or anywhere else in the City of Lawrence. Today, the service for Lawrence residents getting to Boston, one must go to Lowell or Boston via the MBTA Commuter Rail. Then hop on a subway train. Merrimack Valley Regional Transit Administration (MVRTA) also offers four commuter buses to Boston in the morning and five in the evening returning covering from Methuen to Andover before heading to Boston.
The Manchester-Lawrence Train provided train service from the City of Lawrence all the way up to the City of Manchester, New Hampshire. The service ended by early 1999. But shortly before then it was only partially running between the City of Lawrence and the Rockingham Park Mall.
Nowadays, the residents have to suffice with buses from the MVRTA which only runs between places or cities in the Merrimack Valley but not anywhere in New Hampshire Merrimack region, which means you can't take a bus to the Salem, New Hampshire area to shop, especially not the Mall at Rockingham.
The Merrimack Valley Planning Commission met around 2012 and it was decided to cancel the Rockingham Park Mall designated bus stop and continue straight to the race track. Travelers had to signal the bus to stop or to get off if they wanted to stay at the mall. The reasons for this change were amply discussed becoming obvious that the stores wanted to discourage the crowds from Lawrence.
We also have to suffice with calling taxi services which charge per person and not on a meter. Sure, UBER and Lyft are available and so are a number of pick up services, but at what price?
Based on the above information, can you see it yet? Are you stirred enough to see how government, while certainly less overt, discriminates today? The politicians, in power, make decisions about transportation planning, causing in ill-planned plans, that more likely benefit the local and regional governments, and may even benefit other states, such as New Hampshire.
OK, let me spell it out for you. Transportation changes, throughout the years, have kept Lawrencians exactly where they want to keep you – in Lawrence. They don't want your kinds roaming or coming into other neighborhoods. In the meanwhile, the local government and politicians, such as the current mayor, have destroyed a train track that could have been used for Lawrencians to have better access to the New Hampshire shopping district. What could have been an opportunity for many past mayors in Lawrence to advocate the Manchester–Lawrence Line upstart ended up with this administration removing the tracks all together in order to destroy a vision only if someone had looked into it.
Why you ask? Well it's convenient for this administration, as well as past and present mayors and politicians, to keep your money in the city. If they can keep you from moving freely and around the Commonwealth or the nation, they benefit from a continued relationship with businesses. See, if Lawrence businesses don't prosper, the local Economic and Business Development, or the Mayor, doesn't look good. Besides almost everyone knows the current mayor is chair of the MVRTA Advisory Board. Some of our transportation policies and practices destroy stable neighborhoods, and fail to provide access to jobs and economic growth center to Lawrence. Examples of this will be provided next week.
This transportation discrimination has been occurring since the early 1980s, when non-minorities began pulling out of Lawrence in droves.
Non-minorities and minorities ride different kinds of transportation, resulting in an unequal ability to get jobs, education, and a better life. According to 2013 U.S. Census data, 15.9 percent of blacks and 9.1 percent of Hispanics live in households without cars. It is much higher in the City of Lawrence. However, the good thing about the City of Lawrence is that it's only less than 7 square miles. So reaching places that can assist you in finding employment or seeking social service agencies is easier in Lawrence than in other sprawl out cities or towns. But, once you find employment, the issue becomes transportation once again.
In the mid-nineties while working for the Supported Work Program, part of today's Workforce Investment Board, we found employment for families on public assistance. If the jobs available were in Massachusetts, they would get a monthly MVRTA pass but we worked with some electronic companies in Salem, New Hampshire that were willing to train our clients earning better than minimum wage and with good benefits. The problem was transportation across state lines.
The program opted for hiring taxis to pick them up at home and pick them up again after work to drop them off at home. After some advancement on the job, some people managed to get a car and charge co-workers who did not have our service solving their transportation dilemma.
You may say, well that's why they have privately owned cars. Auto mobility comes at low cost to middle/higher incomes, exacerbates problems for lower-income people.
How can this city combat poverty, unemployment and address equal opportunity goals if its transportation issues keep us confined to our city? Or even worse, our city is inaccessible to other residents from other cities who can't afford to drive into Lawrence? When one looks at this issue closer and awoke, one can even make out that the Lawrence Airport, a regional airport that belongs to the city, is even inaccessible to its residents. There is no service that is offered to many of the city's residents. It's not even accessible to Lawrence residents – one has to walk 1 mile from the nearest MVRTA bus drop. So which people is the Lawrence Regional Airport serving?
The New Hampshire state rail plan of 2012 and the I-93 transit study stated that it could be feasible to revitalize the line up to Manchester for freight and commuter rail service.
The benefits from transportation advancements and investments are not distributed equally among the communities, making transportation equity an issue of civil rights and social justice. Our local and state leaders must address the urban transportation inequity in Lawrence in a much better manner by envisioning all possibilities, not just local economics and regional discrimination.
We, the people, need to see ourselves much more than captives, transit dependents on only one public transit system.