The Puerto Rican Movement is pleased to announce the swearing in of its new 2018 Directors and Officers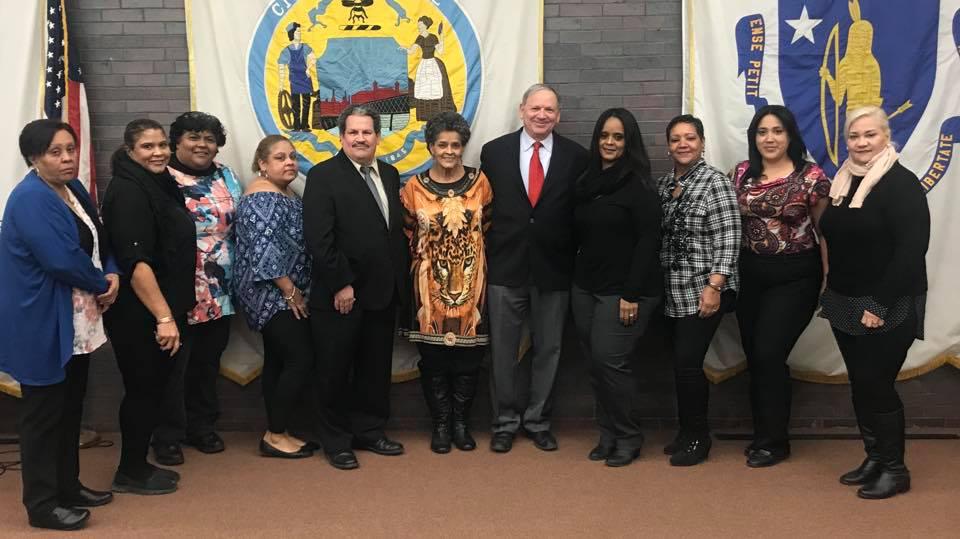 The Puerto Rican Movement is pleased to announce the swearing in of its new 2018 directors and officers. The newly elected directors/officers were sworn in by Attorney Richard Rodriguez on Monday, January 22, 2018 at the Lawrence Public library. They were elected to a one year term in an election held on January 8, 2018.
Elected as the newly officers are Sara Iris Saldaña as President, Geovanna Reyes as Vice-President, Nylsa Caraballo-Polanco as Treasurer, and Norma Hernandez as Secretary. Also elected as new directors are as follows: Marisol Robles-Paredes, Doris Amaro, Juanita M. Saldaña, Juan Manny Gonzalez, Chayanne Alexander, Carmen Olivo, Mercy Caraballo, and Jeanette Rivera Muller.
We will continue working
The newly directors/officers gave thanks to a very special person Mrs. Nylsa Caraballo by awarding her a plaque for her outstanding work and contributions to the Movement. She was the past President for the last two years and will continue to help the Movement in the same way. They also thanked and expressed they were honor of being sworn in by Attorney Richard Rodriguez. They concluded the event by thanking their guest Judge Mark Newman, First Justice to Essex County Juvenile Court.
"I am honored and thankful to the committee for voting me as your President," said Sara Iris Saldaña. She added "I promise to do my best and I'm confident together with Vice President Reyes, Secretary Hernandez and Treasurer Caraballo we will do an excellent job this year making positive contributions to the Lawrence Community."
Formed in 1996 the mission of this community-based organization is outlined as: "Work to foster, promote, expose and educate individuals about Puerto Rican and traditions through educational programs, cultural activities, festivals, fairs, music and other vehicles." Examples of activities in which this organization recently participated are: Back to School Event, the Three Kings, Puerto Rican Night, Feria Cultural held during Hispanic Week and the Puerto Rican Flag Rising.
For more information on the Puerto Rican Movement you can visit its Facebook site or contact the new President Sara Iris Saldana at 978-479-0244 or Vice president Geovanna Reyes at 978-204-0302.