MPU Parents advocate for their rights in Lawrence and Lowell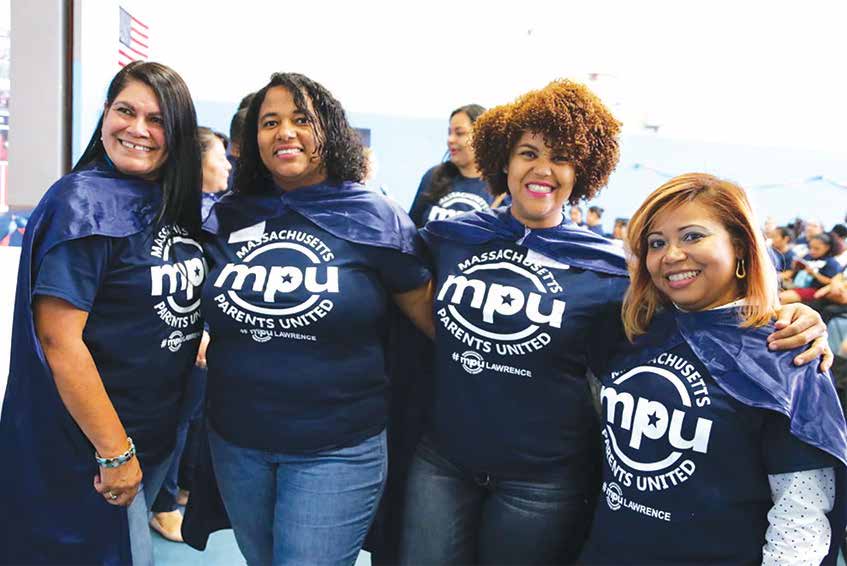 By Paulina Zarate Rodriguez
Massachusetts Parents United has spent the last two years working to increase parent influence in the schools and communities of Lawrence and Lowell.
Mom-in-Chief Keri Rodrigues has enacted her vision of creating an organization focused on hearing parents' voices and improving the livelihood of their families. Rodrigues sought to create a group that not only worked to improve the education of its children, but also the security and safety of their homes.
"Having struggled with the education system before, I realized that coming together and building a community of strong parents was the best way to help our children," said Rodrigues. "I especially feel that Latino families and children need a bigger platform for their voices to be heard."
Currently, MPU is the largest urban parent advocacy organization in Massachusetts with over 7,500 members and growing. The organization has weekly chapter meetings in East Boston, Holyoke, Lawrence, Lowell, Lynn, Salem, and Springfield, functioning as an opportunity for parents to gather and advocate for what they feel is important.
At these meetings, parents create a schedule of events focused on addressing issues they find most critical. As the organization continues to grow, so does the impact they have on local schools and government.
In the past year, MPU opened a Springfield Welcome Center in time to aid with relief efforts in Puerto Rico and welcome displaced families. As part of their campaign, MPU 4 Puerto Rico, they also created a GoFundMe in support of a local elementary school that suffered damages from Hurricane Maria.
On top of this, the parents in Lawrence had the idea to host a debate between candidates for City Councillor At-Large, which presented parents with the opportunity to address the topics that matter to them and affect their lives and communities.
Although MPU began with three parents sitting in a library discussing issues, the organization has grown tenfold and been able to make the change visualized by Rodrigues and her fellow parents.
To become a part of the new Parent Revolution visit www.maparents.org and attend a monthly meeting, so you can also make a difference.
Paulina Zarate Rodriguez is Multicultural Marketing Specialist at Archipelago Strategies Group (ASG).