From My Corner: February 8, 2018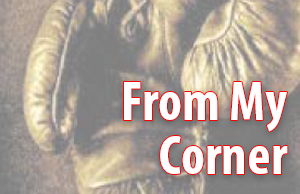 Losing a family member
That's the way Alberto and I feel with the passing of Frank Benjamin. For the past 12 years, Frankie was a very active part of our lives, not just writing "Mr. B's Sport Stories" but being a caring friend. Please see our tribute as a way to honor him on the center pages.
First Amendment
There are people who try to downplay the value of the First Amendment that guarantees Freedom of Speech, Religion and Press among other freedoms. A good example is a recent decision by a California court ruling that a baker can continue to refuse to make wedding cakes for same sex couples.
"The State cannot succeed on the facts presented as a matter of law. The right to freedom of speech under the First Amendment outweighs the State's interest in ensuring a freely accessible marketplace," Judge Lampe wrote in his ruling on Monday. "The right of freedom of thought guaranteed by the First Amendment includes the right to speak, and the right to refrain from speaking. Sometimes the most profound protest is silence."
Would the School Committee continue to exist?
By now you have probably heard that the Lawrence Public Schools receiver, Jeffrey Riley, has been selected as the new Commissioner of the Commonwealth's Department of Elementary and Secondary Education (DESE).
Earlier this week current DESE Commissioner Jeff Wolfson sent out a press release in which he assigned the Lawrence Alliance for Education to oversee the Lawrence Public Schools. That is the name given to this board. This board will have legal authorities granted to a recipient by state law. The governing board, with the approval of the commissioner, will identify a superintendent who will administer the district daily, reporting to the council. The Lawrence Alliance for Education will report to the commissioner of elementary and secondary education.
The six members of the Lawrence Alliance for Education announced are: President John Connolly, the executive director of The 1647, Inc. in Boston; Mayor Daniel Rivera; Jessica Andors, executive director of Lawrence Community Works; Dr. Noemi Custodia-Lora, vice president of the Lawrence campus and community relations of NECC; Patricia Mariano, member of the current Lawrence School Committee and former principal of the Francis M. Leahy School; and Dr. Ventura Rodríguez, associate commissioner for the state support system in the Massachusetts DESE.
Why the commissioner does not just send another receiver to replace Jeff is beyond belief? The DESE created another board to usurp the elected local school committee of its powers and give it to another board for political patronage? With this assignment, DESE just sent a message to the elected officials and its residents that you all are just too stupid to run the show. I don't see representation of parents on this board and for the past few years, the role of the School Committee had been diminished to the point of not being allowed to represent the interests of local families.
George Washington warned against the dangers of usurpation. He called it "The weapon by which free governments are destroyed." He urged Americans to guard against it and reject it for the evil that it is, in his farewell address. In Lawrence, the Commonwealth is abusing its powers. But hey, people, that's who you voted. In the above board assignment, the constitution of the City of Lawrence is being violated.
If the school committee wanted to and had the means, they could challenge DESE in the court system. But they would not be successful.
The National League of Cities (NLC) affirms our response that "local elected leaders work tirelessly every day to reflect their community's values and represent community members and represent the level of government closest to the people they govern, and they focus on the critical issues that matter to the people. But when states seek blanket policies that run counter to the values of its cities, local leaders do not stand down. We see many instances where state-level politicians work to usurp the will of people in cities both through preemption and Dillon's Rule provisions."
Dillion's rule states that (an 1868 court argument) "Municipal corporations owe their origin to, and derive their powers and rights wholly from, the legislature. It breathes into them the breath of life, without which they cannot exist. As it creates, so may it destroy. If it may destroy, it may abridge and control".
However, another individual introduces a doctrine known as the Colley doctrine or the doctrine of home rule, "Expressed the theory of an inherent right to local self-determination." The Supreme Court concluded and adopted Dillion's Rule. Thousands of cases have been determined for the state based on Dillion's rule.
This assignment undermines Lawrence's democracy. David Miller argues that Dillion's rule was wrong because "having great political authority while having little legal legitimacy" ending up being that municipalities were more "tenants of their states".
Lawrence preemptions, from just about all the local laws, by way of overseer and receivership, means a loss of local control, and that for Lawrence it "cannot fit our need and thus create economic implications." However, Massachusetts is a home rule state. It does not identify, at least on paper, Dillion's rule. So why does the Commonwealth usurp Lawrence's authority? Is it because of control of money, power, discrimination, etc.?
The residents of this city must educate themselves and find that the only way to regain our powers is to vote for officials that truly represent us and advocate for us. This includes state representatives, governors, attorney generals, etc. To say otherwise would only push off the responsibility we all say we want with local control.
Police Logs and Crime Reports
The Police Log had not been updated since December 23, 2017 and it was finally done on February 4. We are sort of up-to-date for now. Let's see how soon they put up the data for February 5 because I have something to check out.
Also, the monthly Crime Reports has not been updated since November 2017. There is nothing for December 2017 or 2018.
Stopcrime.com
On a weekly basis, Rumbo receives reports from that organization about all kinds of crime being committed in the City of Lawrence (if reported by the authorities.) This past week, this is what we received:
We're very sorry, but it looks like we have no crime data for you this week.
🙁
This may be because there has been an interruption in the data feed or your police agency doesn't report weekly.
Now we know, nothing ever happens in Lawrence!
Sanctuary State?
If we get up one morning and find out that Massachusetts has become a Sanctuary State, that's not the time to march in demonstrations demanding a reversal. Too late! Blame yourself for not being on top of your politicians' decisions.
This House Bill S1305 was approved and sent to the Senate for debate by the Committee of Public Safety and Homeland Security, sponsored by James B. Eldridge, Juana Matias, Jack Lewis, Jason M. Lewis and other members of the General Court for legislation to protect the civil rights and safety of all Massachusetts residents.
(3) Neither a law enforcement agency nor the Massachusetts Registry of Motor Vehicles shall make any information in its databases or other record-keeping systems available to any entity for enforcement of any federal program requiring registration of persons on the basis of race, gender, sexual orientation, religion, or national or ethnic origin. Any agreements inconsistent with this section are null and void; provided, however, that nothing in this subsection shall prohibit or restrain a law enforcement agency or the Massachusetts Registry of Motor Vehicles from sending to, or receiving from, any local, state, or federal agency, information regarding citizenship or immigration status, consistent with 8 U.S.C. section 1373.
Class-less Pink
Did you know that I chew gum? Yes, I am confessing! I buy them in large quantities so I won't run out and keep them by my computer. I like to use them after a meal, even after brushing my teeth – but never in public!
If you watched the Super Bowl when Pink sang the National Anthem, the first thing she did on camera, standing in front of the microphone, ready to begin she pulled the big chunk of gum from her mouth and threw it on the ground. How uncouth!