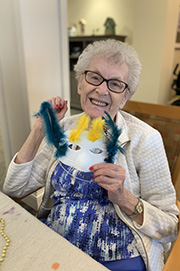 Bridges® Memory Care Residents Let the Good Times Roll for Mardi Gras!
ANDOVER, Mass. — Residents at Bridges® by EPOCH at Andover, a memory care assisted living community located at 254 Lowell Street (Rt. 133), recently celebrated Mardi Gras in style!
With the help of Life Enrichment Director Paige McGlynn and the rest of the life enrichment team, residents decorated their own Mardi Gras masks and enjoyed festive décor and activities.
Chef Naldo Sanchez prepared a delicious lunch featuring traditional Fat Tuesday muffuletta sandwiches.
"The residents had a wonderful time at our Mardi Gras celebration," said McGlynn. "We brought the fun and flavors of New Orleans to Bridges for the day! It created a lot of smiles and laughter."
The celebrations also extended to the greater community, according to Susan Tourtillotte, Senior Advisor at Bridges® by EPOCH at Andover. "We welcomed area families who are caring for a loved one with memory loss and local professionals to stop by to pick up a meal for two to go. Chef Naldo created a delicious meal featuring the flavors of the Big Easy!" says Tourtillotte. "It was a great way for us to help area caregivers – even if in a small way – and to say thank you to area professionals."
Chef Naldo has been working at Bridges for over seven years and takes pride in his creations.  "This is a great place to work and I enjoy bring new things for the residents to try but, if a member of the family should mention something in particular, I make it part of the regular menu," he told me enthusiastically.
That happened when a relative told him that a new resident likes chili; other times are desserts they love and it pleases many.  And he makes a mean paella!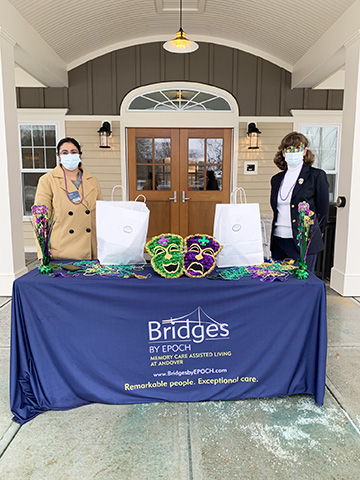 He has a large staff in the kitchen and dining room and is mostly Latinos.
They are a very active part of the community.  "Last year, the senior center's kitchen was closed for renovations," explains Bridges® Senior Advisor Susan Tourtillotte, "so we offered our kitchens – as well as our chefs' services – to help Elder Services fulfill its mission."
On Friday, February 26, from 1 to 3 pm, Chef Naldo will conduct a live step-by-step demonstration on how to prepare roasted haddock with fennel and tomatoes.  The live demonstration is scheduled to take place at the Andover Senior Center, located at 23 Clark Road. Seating is limited at the senior center, but the event is available to all virtually via Zoom. 
            Bridges® by EPOCH at Andover provides memory care assisted living that is comfortable, positive, safe and engaging. Exclusively dedicated to caring for those with Alzheimer's disease and other forms of dementia or memory impairment, we've created a wellness-focused lifestyle that promotes dignity and individual preferences.
Their memory care professionals receive specialized and ongoing training designed to help residents maximize their independence in a secure, calm and purposefully designed environment – making a positive impact on the lives of residents each and every day.
For more information about the life enrichment programming at Bridges® by EPOCH at Andover, contact Senior Advisor Susan Tourtillotte at 978-296-0058.
Kindly register to attend. Zoom details below.
Meeting ID: 939 8771 5925
Passcode: q054ZF