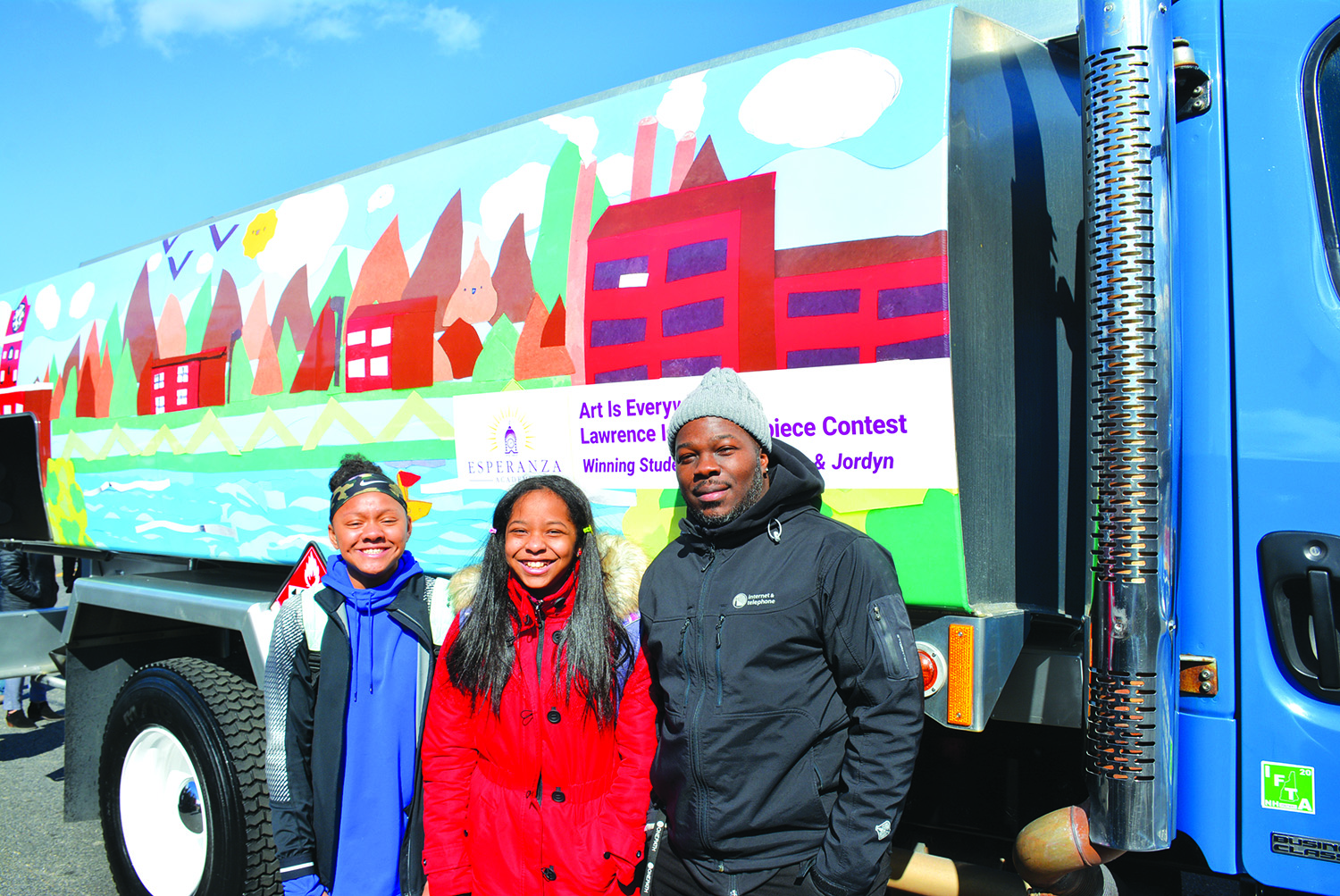 Esperanza Academy Students Join Haffner's for the "Art Is Everywhere: Lawrence Is a Masterpiece" Contest Vehicle Roll Out
Students, parents and faculty from Esperanza Academy recently joined Haffner's at its corporate office to celebrate the roll out of their newly designed oil truck featuring incredible artwork from the "Art Is Everywhere: Lawrence Is a Masterpiece" Contest. Congratulations to student winners: J'nyla, Jordyn, Michelle and Briany!
In late fall 2019, Esperanza Academy students were asked by Haffner's to find beauty in their local surroundings and then transform it into a design for an oil truck. "The contest challenged our students to seek and pay attention to the art and beauty that surround us in Lawrence," said Jadihel Taveras, Head of School, Esperanza Academy. "Each student brought their creativity, energy and talent to the project."
"We are so grateful to have the seeds of awareness, community pride and confidence from this project planted in our girls," said Lillian Leggio, Art Teacher, Esperanza Academy. "When they look back at their time at Esperanza, this will be one of their fondest memories."
The vehicle roll out party, hosted by Haffner's, was a huge success! The Esperanza community and Haffner's staff enjoyed music from Power 102.9, pizza from Tripoli Bakery, custom Esperanza and Haffner's cookies from Mrs. Fields and more!
"We are so proud to have partnered with this amazing school and show the beauty of the Lawrence community on one of our trucks," said Jeff Black, Owner & COO, Haffner's. "Watching the students' faces as the truck pulled up with their artwork was an incredible moment. To say this was a rewarding project would be an understatement. This was one of my favorite days ever at Haffner's. I can't wait to see the reaction from the community and to host this contest again during the next school year."
If you want to find out more about Esperanza Academy or donate, please visit their website: https://www.esperanzaacademy.org/
Haffner's Service Station was founded in Lawrence, MA in 1925. Today, Haffner's operates gas stations, convenience stores and car washes throughout the Merrimack Valley and Southern New Hampshire. Haffner's is also well-known throughout Massachusetts, Southern New Hampshire and Southern Maine for its heating oil and propane delivery services as well as its extraordinary, 365 – 24/7 service department. For additional information, visit www.haffners.com.
Energy North Group is Haffner's parent company and a well-respected leader in both wholesale distribution and retail operations throughout New England and New York