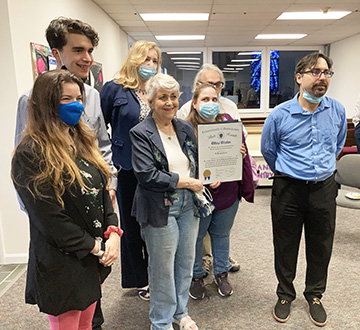 Asperger Works, Inc. Announces New Home
On June 3, 20201, Asperger Works, Inc. hosted its Open House celebrating our new office located at 346 Broadway, Haverhill MA 01832. Despite the COVID-19 crisis, approximately thirty-five persons attended this special event celebrating our new home where we will continue to provide services that focus on solving the employment problems of adults with Asperger's Syndrome.
Due to COVID-19, we needed to give up our office at 60 Island Street, Lawrence. Fortunately, the First Presbytarian Church of Haverhill offered us office space that we can afford. So, we are back in business; but anyone who wants to meet with our team in person, needs to make an appointment.
Asperger Works was pleased to receive an Official Citation from the State Senate sponsored by State Senator Diana DiZoglio and signed by the President of the Senate Karen E. Spilka, Clerk of the Senate Michael D. Hurley, and State Senator Diana DiZoglio. The citation states "The Massachusetts Senate Hereby extends its Congratulations to: Asperger Works, Inc. In Recognition of: The opening of your new location in the City of Haverhill and extends the best wishes for continued success." In her past testimony, Senator DiZoglio shared "The cause of this organization is so important and they are doing a great job … Thank you, Asperger Works!"
Josiah Morrow, President of Asperger Works Board of Directors, welcomed the attendees and said, "The First Presbytarian Church has been very generous to give us this space and to assist us in this endeavor as we seek to provide people in the Greater Haverhill area with the services they need if they are on the Asperger Syndrome… the training that they need to find a fully equitable employment opportunity and make sure that we are giving everyone the best job they can perform…."
Daniel R. Rajczyk, Founder and Executive Director of Asperger Works, added, "Thank you Everyone for coming. This is a bigger turnout than I thought would happen…. It looks like it was a good move for us to come to Haverhill, which is located in the Merrimack Valley."
Asperger Works was formed in 2012 by Daniel Rajczyk as part of a Master's Degree project he was working on at Endicott College. It is a charitable not-for-profit organization whose mission is twofold: (1) to educate employers about the positive side of hiring people with Asperger's Syndrome (AS) and (2) to help adults with AS lead productive lives through gainful employment.
Over the years, Asperger Works has participated in various activities and events in the Greater Lawrence community! From marching in parades to fundraising dinners, we are on the move.
Join us in our work to increase visibility for those who have been invisible in our communities for far too long: adults with Autism Spectrum Disorders! Join us and help put adults with Asperger's Syndrome to work in fields commensurate with their talents and abilities!
Further information about Asperger Works, services we provide, and information about Asperger's Syndrome can be found on line at:
Website: https://aspergerworks.org.
Facebook: https://www.facebook.com/aspergerworks.org.
LinkedIn: https://www.linkedin.com/company/asperger-works-inc.
And join us at this year's Dinner of Hope on October 8th. For more information, visit https://dinner.aspergerworks.org/.
           Prepared by Attorney Richard Rodriguez, Advisory Board Member to AspergerWorks.