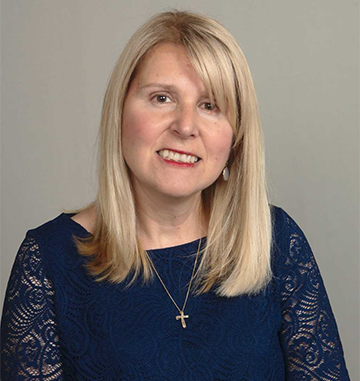 AspergerWorks, Inc. welcomes Kim Boudrot as Business Contract Outreach Coordinator
Asperger Works, Inc. (AWorks) is pleased to announce the hiring of Kim Boudrot as Business Contract Outreach Coordinator. In this new position, Boudrot is responsible for leading AWorks' efforts in making contacts with businesses in the region, with emphasis on the Merrimack Valley. The purpose of these contacts is to have AWorks make free presentations advocating the hiring and appropriate treatment of individuals with Asperger's Syndrome (AS).
Boudrot earned her bachelor's in social work and sociology from Gordon College (Wareham, MA). She brings years of experience working with developmentally disabled adults and sales. Of her work with AWorks, Kim says, "I am so grateful for the opportunity to join Asperger Works as Business Community Outreach Coordinator.  I received a warm welcome from the board and I share their mission of helping businesses see the true value of hiring an adult with Asperger's.  I look forward to meeting everyone and will work hard to help build some business connections for the clients that contact this amazing organization."
Presently Boudrot holds the position of Salesperson/Referral Agent with Caldwell Banker in Beverly from which she brings her sales experience. She was an Assistant Coordinator with the First Congregational Church's Tuesday Program in Hamilton where she was responsible for the hiring of childcare staff involving interviewing, recruiting, supervising, and checking references. In her role as a social worker with the Walnut Service Center in Somerville, MA, she acted as an advocate for developmentally disabled adults by scheduling meetings and providing case management.
AWorks Board President Josiah Morrow said, "We're very excited to have Boudrot on board. Her depth of experience and knowledge working for disabled individuals makes her an asset to AWorks and the work we do servicing individuals on the autism spectrum."
Any companies interested in having AWorks make a presentation may contact Ms. Boudrot at 978-468-6130 or via email at kboudrot@aspergerworks.org.
The unfortunate statistic worldwide is that only 1 in 5 adult Aspergians (people with AS) are gainfully employed, which leaves the other 4 either unemployed or underemployed! This is what AWorks is trying to change.
AWorks was founded in 2012 by Executive Director and former President Daniel Rajczyk as part of a Master's Degree project he was working on at Endicott College. It is a charitable not-for-profit organization whose mission is twofold: (1) to educate employers about the positive side of hiring people with AS and (2) to help adults with AS lead productive lives through gainful employment.
Further information about Asperger Works including information about Asperger's Syndrome and the services we provide can be found on our website, https://aspergerworks.org. You can also visit us on Facebook (https://www.facebook.com/aspergerworks.org), Instagram (https://www.instagram.com/officialaworks/), and Twitter (https://twitter.com/AspergerWorks).