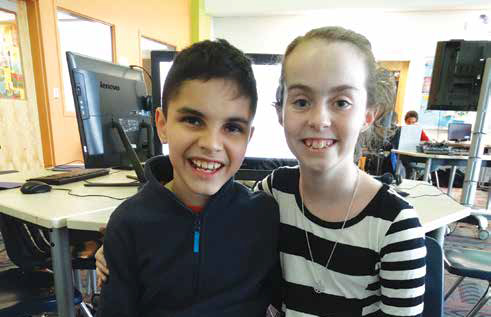 Nine-year-old Alex Rosario has long admired his older brother Nick's ability to solve the Rubik's Cube so quickly. Due to his severe visual impairment, however, he wasn't able to solve one himself – until his friend at the Boys & Girls Club of Lawrence, 11-year-old Grace Hunt, designed one with braille letters on stickers representing the colors blue, red, yellow, white, orange, and green.
"I love it!" said Alex, a third grader at Timony Grammar School in Methuen. "Before, all I did was play around with it or mix it up. For once in my life, I can solve a Rubik's Cube now, and that makes me really happy."
Grace, a sixth grader at Timony, said she and Alex hit it off immediately after meeting at his sister Jenevieve's birthday party last year. After bonding over their shared love of animals, nature, and playing outdoors, Grace has waited daily for Alex's van to arrive at the Boys & Girls Club of Lawrence so she can direct him inside and help him get settled in an activity.
"Alex is one of my best friends. He's very nice, and he never fights with me," said Grace, noting that she enjoys the extra time with Alex – and he feels more comfortable walking in with a friend than different people. "We have a lot of fun together, but we do our own things, too."
While Alex has participated in Bread Loaf creative writing workshops and Maker Camp, Grace practices with the swim team and participates in the Girl Lab! STEM club for middle school girls. They also play games together, and Alex recently began teaching the braille alphabet to Grace.
"I feel very happy because Grace is always there for me," Alex said. "It's nice to have such a good friend."
About the Boys & Girls Club of Lawrence
The Boys & Girls Club of Lawrence provides a safe, after-school haven for more than 4,400 youths to come for nightly meals, homework help, fitness and nutrition programs, college and career planning, and lasting personal relationships. The club offers critical programs that focus on academic success, healthy lifestyles, and community involvement at two locations: the Boys & Girls Club of Lawrence at 136 Water St., and the Beacon Boys & Girls Club at 71 Duckett Ave. For more information, visit www.lawrencebgc.com.