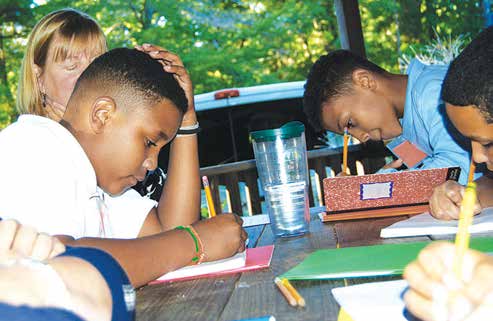 Community Day Charter Public School-Prospect (CDCPS-Prospect), thanks to a grant from the Abbot and Dorothy H. Stevens Foundation & Nathaniel and Elizabeth P. Stevens Foundation, is offering a new Riders and Readers program in conjunction with Windrush Farm Therapeutic Equitation, Inc. in North Andover. This after-school enrichment program fosters learning and growth while expanding the personal, emotional, and physical abilities of the students.
The Riders and Readers program provides an intensive outdoor learning experience that combines animal husbandry, horseback riding, and reading and writing activities for 10 fourth through sixth grade CDCPS-Prospect students. It features personalized training in horse handling, horse grooming, and basic horseback riding skills but also integrates creative reading and writing activities to reinforce literacy skills.
"We are thrilled to work with Windrush Farm and the Stevens Foundation to introduce our students to an experience beyond traditional school-based enrichment in an environment out of their norm," said Kathleen Shorter, head of Community Day Charter Public School-Prospect elementary school. "It is wonderful to see our students showing responsibility and gaining perseverance, determination, and a willingness to try new things."
The Riders and Readers program is modeled on the Giddy Up and Grow Program, an existing summer program at Windrush Farm that serves 10-14 year old students with a variety of risk factors. Program highlights include:
Horse care and riding
A consistent routine each week featuring 15 minutes of horse grooming and care followed by 30 minutes of riding instruction

Students are trained in the proper techniques and approaches to "pony care," learning to handle, groom, and ride the horses by working one-on-one with a PATH-certified and licensed instructor
Group reading and discussion of one original horse-themed story each week

Writing activities, including journaling about their experiences and composing their own stories or written works that have a horse-themed content
"This educational program was developed by long-time English teacher Elizabeth Payne and certified therapeutic riding instructor, Tina Fransioli," commented Janet Nittmann, chief executive office at Windrush Farm. "It is based on the premise that children can be motivated to improve their reading and writing skills through their interest in horses and riding. We are thrilled to see the students' excitement over the horses has, as we hoped, spilled over onto the writing portion of the program."
The program runs every Wednesday afternoon through Dec. 6. If you are interested in visiting the program, please contact Laura Goodwin at 978-722-2518.
About Community Day Charter Public Schools
Community Day Charter Public Schools (CDCPS) are a network of public charter schools in Lawrence, Massachusetts that serve students in Kindergarten through grade 8. The schools offer safe, supportive, structured learning environments in which students thrive. An extended day and small classes with support for English language learners yield outstanding academic results. We strive to celebrate our city's rich cultural heritage and the vibrancy it brings to our schools. The CDCPS network of schools, managed by The Community Group, currently consists of CDCPS-Gateway, CDCPS-Prospect, and CDCPS-R. Kingman Webster. For more information, visit thecommunitygroupinc.org.
About Windrush Farm
For over 50 years, Windrush Farm Therapeutic Equitation, Inc., a horse farm located on 38 acres of woods and fields and surrounded by 160 acres of conservation land in North Andover, has sought to harness the "power of the horse" as a means to foster learning and growth and expand the personal, emotional, and physical abilities of children and adults. Founded in 1964, Windrush Farm was one of the first therapeutic riding centers in the United States. Windrush offers riding classes and equine assisted activities to improve balance, muscle tone, coordination and confidence.