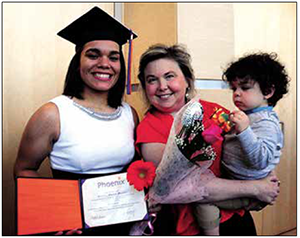 Three years ago, if you had told Destiny Morton, age 17, that she would soon be a high school graduate and on her way to college, she would have laughed. As an eighth grader at UP Academy Leonard, she was kicked out of school for numerous behavior infractions and truancy. The year after, at Methuen High School, the trend she started while at the Leonard continued and led her to numerous suspensions. In reflecting on this time in her life, Destiny shares that, "There was a point that I was suspended more than I was in school." She didn't feel like school was for her.
This leg of Destiny's story came to a climax midway through her freshman year when she was suspended indefinitely for hitting a teacher. When she tried to transfer to Lawrence High School she was denied. "I was too bad and too much of a problem." At this time, Destiny was simultaneously grappling with her path forward in school and coping with her mother's death. Though she firmly believes this did not excuse her actions, she sees her mother's death as the core of her troubles in school. "I really didn't know what was going to happen to me," she recalls. She felt disconnected from everything.
And then, she heard about Phoenix Academy. After taking a tour of the school and going through the orientation, she decided to attend the school that she now says, "turned my life around."
It wasn't an easy transition. Used to regular school hours, the Phoenix 9am-5pm was a struggle. Used to not being held accountable for her actions, it was challenging to have teachers hold her to higher and tougher standards. Used to doing whatever she pleased, it was a fight to adjust to a school that set high expectations.
Fittingly, what gave her fits in the beginning are the same things she credits to her success. "Phoenix's hours made me think of going to school like going to work." Those teachers and staff that she considered annoying at first? She eventually appreciated that they were trying to help her, not attack her. For those strict rules that she initially considered dumb? She came to realize that "there are reasons for them", and if she did break one she had to start "accepting the consequences and stop running away."
A self-proclaimed problem in school, now she is trying to solve the problem; she is taking everything that she has learned and experienced and is trying to be a role model for those around her. She provides advice and guidance to fellow students to help them academically and personally. Her best advice: "Reflect on your mistakes as a way to improve yourself." She makes sure to provide her niece with the support and love that she did not receive only a short time ago. Most importantly, she is showing people that just because they are from Lawrence does not mean they are not capable.
Destiny is excited to continue her educational journey next year at Brandeis University through the Myra Kraft Transitional Year Program.  She is determined to prove that being born  and raised, and educated in Lawrence is not shameful or embarrassing. After that, "we will see" she says. Whatever it is she decides to do, Ms. Destiny Morton has a bright future ahead of her, and so does anybody who is reading this. In the words of Destiny, "You just have to make your own destiny."