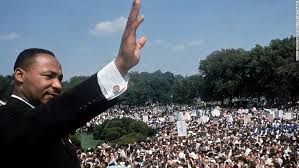 Dr. MLK Jr 2022
By Frank Bonet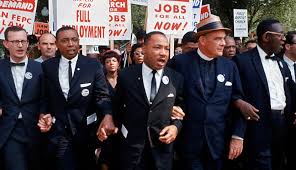 I always recall one of the few people that I considered, while growing up, my hero. I am not writing about a fictitious Marvel or DC comic superhero, but a truly real person type. Dr. Martin Luther King Jr.
I can also remember when I was in 4th grade, about ten years old in a predominantly African American neighborhood of Newark, New Jersey when my schoolteacher (Mr. Jackson) asks if I was interested in being part of the MLK Jr ceremony. I was nervous and could not stop my legs from swinging wildly while I read my part while sitting on the school auditorium stage.  It was and continues to be, one of my more vivid recollections of my childhood. This event occurred way before his birthday became a holiday.
Fast forward throughout my military and civilian career, and I can certainly agree that all the benefits I received through my life in career and education have been due to Dr. King's work. As well, I have been able to work and allowed the creative opportunities that benefit other people because of his work in much the vision that Dr. King spoke of and the wishes that he hoped to see.
I'd like to say that he and I share the same birthday. But my birthday is two days later, and I was born on the year he won a Noble Peace Prize. This year my birthday falls on the day we honor and remember him. He and I have that one thing in common.  However, he was anything but common although he was normal, like you and me.  He was righteous, thoughtful, kind, and non-violent. He wanted people to follow and do similar work.
He inspired me to truly change the way that minorities, in Lawrence, were hired for public safety positions. Even when the Boston NAACP (though a client they represented in 1973) did not see it the way I did, so one did.  Mayor Dan Rivera, State Rep Frank Moran, and Attorney General Maura Healy believed in a proposal, that I wrote, and encouraged and empowered me to participate to make changes in community public safety hiring. So, we did, but not without the help of the above three individuals.  We were able to show a federal judge how a 1974 federal consent had the city in a trap and not allowing the city to hire City minority residents for police and fire. At least not enough to be removed from the federal consent.  It was institutional discrimination that had taken place, and no one even noticed.
Fast forward a few years later and the City currently finds itself recruiting most, if not all, of its new police officers and firefighters from the City of Lawrence, and not from outside the city, and certainly now more minorities than ever. The police department is over 58% minority police officers and the fire department is at a 34% minority rate.
This MLK Jr day, don't just recognize the day. Honor, work, think, plan, and do. Provide service, not only on Monday but throughout the year and beyond.  Now more than ever, we need your service and your work. When people ask me how I honor his work, my response is that I like to create positive change.  That's what he would have wanted me to do. The biggest lesson I learned since my 4th grade MLK event is the value of service. It requires sacrifice and courage, and I've certainly have had plenty of sacrifice and courage through my military and civilian career.
As I close out this article, I want to leave you with one of his quotes.  I know many people have different quotes that they can relate to when it comes to Dr. MLK Jr. My favorite quote is taken from one of the letters he wrote while in Birmingham Jail.
 "In a real sense, all life is inter-related. All men are caught in an inescapable network of mutuality, tied in a single garment of destiny. Whatever affects one directly, affects all indirectly. I can never be what I ought to be until you are what you ought to be, and you can never be what you ought to be until I am what I ought to be… This is the interrelated structure of reality."
Hope you join me in helping and saving the world. Remember, you don't have to be a superhero, just normal and inclusive.
Happy MLK Jr. Day 2022!