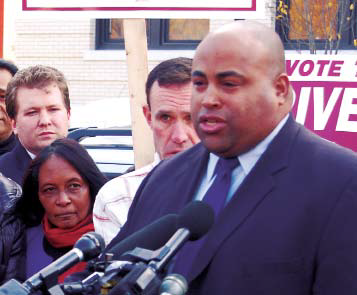 A year in review
            "I'm running because the current leadership has failed us and we must change it.  Our campaign offers a clear choice between hope and fear, between professionalism and incompetence, between success and failure," Dan Rivera, February 6, 2013.
The election of Mayor Dan Rivera was a triumph before it began.  He had the support of people in high places, city employees in his campaign, great strategies, lots of attorneys as friends, a collection of politicians, a support pact of his previous contenders, millionaires behind him, the Democratic Party, the North Andover Democratic Committee, a Congresswoman, a Senator, and to boot the newspaper that destroyed the career of his predecessor loved him.
Although he won with half of those who voted, Dan was liked by all.  His administration could have been the best administrations because all the ingredients were there to make him succeed. He received a city with paved streets, a balanced budget, seven million dollars on the Water Enterprise, and 10 million dollars in the General Fund.  Instead of healing the city he goes and explores the dark side that we all have.  The beautiful smile is gone and replaced by a frown that he carries around the city.  On election night we saw how this year will unravel.  He requested the ballots to be guarded by the Lawrence Police Department around the o'clock.
While the mayor, his campaign committee and his future staff was celebrating, one half of the city was somber and in disbelieve that he actually won.  He goes on a three day extravaganza celebration of his swearing in paid by a millionaire supporter.  What most people don't know is that soon after winning he started working on his hit list which included a lot of employees he knew and liked at one time or another.  He wasted no time soon after his swearing in and fired most of them.  Whether or not he was advised to really watch what he did "legally", it looks like he did not listen to them.  It was not enough for him to fire those employees in the first 30 minutes of his reign.  He had to destroy their image and reputation for no reason at all.
"You'll be happy to know if you come to City Hall you won't have to worry about someone shaking you down," he said on day 15th of his 4-year term as mayor. "We are cleaning house," Mayor Rivera announced on January 18, 2014 speaking to a record crowd of 300 people at the annual Merrimack Valley Chamber of Commerce mayors and town managers breakfast at the Andover Country.
While the audience erupted in applause, others commented, "Is he still campaigning"?  This need to discredit tactics continued with David Camasso, Art McCabe, Andy Wall and Rafael Tejeda each firing was followed with a nasty write up on a local paper about the former staff.  On December 30, 2014 a year after, he is still discrediting, now to the Boston Globe.  Mayor Rivera said the firings and layoffs were generally related to job performance.  "We have been thoughtful and are hiring people who are going to do the job right".
That Boston Globe article says in part, "In another bit of irony, Rivera is now the one being accused of favoritism and political patronage. Some of his critics contend that Lantigua's supporters were fired strictly because of their affiliation with the former mayor, while claiming Rivera is only hiring his friends and loyalists. It's important to note that Lantigua's girlfriend and ex-wife used to be on the city's payroll — until Rivera fired them, that is."
How long is he going to continue using the women in Lantigua's life without the media asking questions?  Maggie, his first wife, was hired in the police department in 2004 and Lorenza in the water department in  2005.  Mayra, his second wife, was appointed to the Licensing Commission in 2006 – all of them by former Mayor Michael Sullivan.  Lantigua became mayor in 2010.  Why is he allowed to misrepresent the facts?
I have no doubt that this not only discredited them but also prevented them from finding suitable employment.  It has been a year and most of those past employees have not found employment.  Several employees have started a lawsuit and many will follow.  The president of the city council is concerned of how much these separations will cost the citizens of Lawrence.
On June 12, 2013 Rivera told the Eagle tribune "There are (workers) there he hired who don't have the skill set. They're just people that help in campaigns and don't have any qualifications."  However, as he became the mayor, he hired a long line of flunkies that helped him in his campaign.  He hired people that either lied on their application, don't have the education or met the minimum requirements of the position.
On February 5, 2013 Rivera stated "This race for me will be personal as well as political".  This campaign promise was fulfilled; every change or move he has made has been personal and political.  I dare to say that is more personal than political.  We, the taxpayers of Lawrence are paying for someone to study to pass a state certification.
Mayor Rivera started the year firing and ended the year with the firing of Rafael Tejeda.  Now he is reorganizing the election department in a city that is screaming voter fraud.  In other cities like Boston the mayor start reorganizing or firing the department heads not the employees that reports to them.  Boston Mayor Marty Walsh has fired nineteen employees of a workforce of seventeen hundred.  To this date we don't know if Mayor Rivera has fired sixty or seventy because this information has not been released by the Mayor's office.
Not one employee has been called back or regained his or her position.  How are we going to pay for these mistakes?  With MONEY!  And that money comes from the taxpayers.  I predict that Mayor Dan Rivera will leave office with a record of the most lawsuits against any Lawrence Mayor.  The Mayor has a Master's in Business Administration and he is probably the only MBA that has been mayor of the City.  With this degree he's expected to manage the funds of the city appropriately, not waste them.  Due to this fact, I give the mayor an F for flunking the city's funding.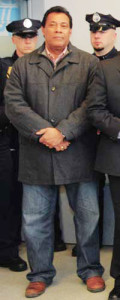 You be the judge
When Mayor Rivera made the announcement at the police station of the new grant to fight crime, it was scheduled to begin at 1 o'clock.  Everyone was there waiting and at 1:25, Kate Reilly came running and told the mayor that we could start, "Marcos is here!"
Senator Barry Finegold and State Representatives Frank Moran and Diana DiZoglio were in Boston (working) and came for the presentation.  Take a look at Rep. Devers' attire: He came from a work site.  We are paying his salary while he attends to his construction business during working hours.