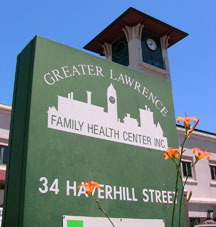 Greater Lawrence Family Health Center (GLFHC), the sponsoring organization for the Lawrence Family Medicine Residency, is proud to announce a successful resident physician match on the annual "Match Day", through the National Resident Matching Program.  This will mark the fourth LFMR class that will be entering the residency program as part of the Accreditation Council for Graduate Medical Education (ACGME)'s four-year length of training national demonstration project which begins this July.
"We are very proud to have successfully matched nine premier medical students for our innovative 4 year curriculum," states Wendy Barr, MD, Lawrence Family Medicine Residency Director.  "The mission of the LFMR is to offer resident physicians the knowledge and ability to provide medical care and leadership in the ever-changing healthcare landscape, specifically in underserved communities. The continued advancement of a fourth year of residency provides the opportunity to train physicians in key aspects of health care, including Patient Centered Medical Home (PCMH), advanced experience in core clinical aspects of Family Medicine, as well as expanded community experiences that can serve as a stronger platform for residents throughout their careers," concludes Barr.
"This year, over 700 applications were received, with nearly 120 candidates interviewed between October and January," states John Silva, GLFHC President and Chief Executive Officer.  "I'm proud to welcome the Class of 2020 and my first class of resident physicians to LFMR and GLFHC.  Our patients and the entire community benefit from advanced and compassionate care from these physicians. The physicians that are joining LFMR bring a fresh approach to community based health care.  That is reflected in the care they provide and the accomplishments they experience at GLFHC, Lawrence General Hospital and in the communities we serve in the Merrimack Valley."
Along with the nine resident physicians matched today, Michelle Vargas, MD of Puerto Rico will also join the Class of 2020 as part of a transfer program from the Carney Family Medicine Residency program in Boston as a result of that program closing in June 2016.
Started in 1994, the Lawrence Family Medicine Residency is unique because it is the first in the country for which the accredited institution is a community health center.  The residency is accredited through GLFHC and is affiliated with Lawrence General Hospital.  This relationship benefits both organizations gives residents a comprehensive range of experiences from office practice to in-hospital training.  The enthusiastic support and cooperation from staff and physicians at Lawrence General Hospital contributes tremendously to the residency's success in producing needed primary care physicians.  In 2011, LFMR was designated by the Health Resource Service Administration (HRSA) as one of the nation's first eleven Teaching Health Centers under the Affordable Care Act. The program has received recognition from the Society of Teachers of Family Medicine and the Robert Wood Johnson Foundation for the program's impact on the health of the Lawrence community and underserved communities throughout the country.
El Programa de Residencia de Medicina Familiar de Lawrence da la bienvenida a los siguientes diez nuevos médicos residentes en nuestro programa residencial del Centro de Salud y Medicina Familiar:
The Lawrence Family Medicine Residency welcomes the following ten new resident physicians to our Health Center and Family Medicine residency program:
Alison Case – Elmhurst, IL
Undergrad: DePauw University
Medical School: MI State University College of Human Medicine
Sarah Cassel
Undergrad: Amherst College – Interdisciplinary (Sociolinguistics) – BA
Medical School: Duke University School of Medicine
Jesus Iñiguez
Undergrad: Central Washington University – Biology/Chemistry/Anthropology – BA
Medical School: Geisel School of Medicine at Dartmouth
Laura Kaufman – Mt. Kisco, NY
Undergrad: Vanderbilt University – Neuroscience – BA
Medical School: Vanderbilt University School of Medicine
Alex Laventure – Concord, NH
Undergrad: Cornell University – Psychology – BS
Medical School: Rush Medical College of Rush University Medical Center
Shira Lerner – Winnipeg, Canada
Undergrad: University of Pennsylvania – Biological Basis of Behavior – BA
Medical School: Case Western Reserve University School of Medicine
Rachel Martin – Spartanburg, SC
Undergrad: Milligan College – Biology – BS
Medical School: University of Tennessee Health Science Center College of Medicine
Natalie Stahl – Ridgewood, NJ
Undergrad: University of Washington, Health Services -MPH, Neuroscience, French- BA
Medical School: Emory University School of Medicine
Michelle Vargas
Undergrad: University of Puerto Rico – Biology, BA
Medical School: Ponce School of Medicine and Health Sciences
Morgan Younkin – St. Louis, MO
Undergrad: Wheaton College – Biology – BS
Medical School: Tufts University School of Medicine