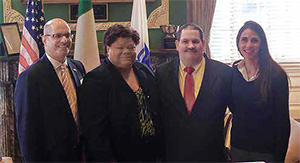 Governor Charlie Baker has appointed Lawrence resident attorney Richard Rodriguez to the Advisory Board of the Massachusetts Commission Against Discrimination (MCAD).  The board is comprised of select members from across the Commonwealth, representing a wide range of backgrounds, experiences, education, employment history, and cultures.
Rodriguez is himself disabled and a long-time advocate for persons with disabilities.  He has first-hand experience of the difficulties faced by children and adults with disabilities, having been a victim of bullying due to his disabilities.
Rodriguez was sworn in on November 19, 2016
at the Governor's Office in Boston. Edward Palleschi, director of boards and commissions, administered the oath of office. He was accompanied at the swearing-in by his wife, City Councilor Nilka Alvarez-Rodriguez, their two children, State Rep. Diana DiZoglio, D-Methuen, and David D'Arcangelo, director of the state Office on Disability.
"As we celebrate the 25Th anniversary of the Americans Disabilities Act I am honored and grateful to be appointed by Governor Baker as an advisory board member.  As a disabled person  I am excited to be part of Governor Baker's administration and be part of the Commission's efforts to investigate, prosecute, adjudicate and resolve cases of discrimination."  Rodriguez brings to this position his knowledge of disability law and his belief that everyone deserves a chance to succeed in life according to his/her knowledge without fear of discrimination. He is presently a member of the Lawrence Commission on Disability; his peers elected him as Chairman of the Commission.
Against all odds from his disabilities and adversity, Rodriguez today is a practicing attorney and principal of The Law Office of Richard Rodriguez in Lawrence, Massachusetts.  He earned his B. S. Degree from John Jay College of Criminal Justice in New York, a Paralegal Certificate with Honors from Long Island University, a Postgraduate Certificate in Public Policy from the CORO Foundation in Public Policy, and his J.D. Degree from Massachusetts School of Law. As a role model to people suffering from disabilities Rodriguez serves as a motivational speaker inspiring similarly disadvantaged individuals.
Rodriguez has over twenty years of public and community service experience. His extensive background includes working in the areas of legal, public policy, government, community organizing, and public/private administrative management. In his recent employment, Rodriguez worked for the Lawrence Police Department in charge of managing a $1.5 million grant from the U.S Department of Justice.  His past employment includes working for the Massachusetts Division of Unemployment Assistant Program, Covenant House, Legal Aid Society, and Massachusetts House of Representative. He also worked as an Adjunct Professor at Cambridge College and served nine years in the Army National Guard.
The board is charged with the responsibilities to "advise the commission and the governor on matters of policy affecting the commission, and shall review the implementation of the commission's programs and policies and from time to time report their conclusions to the commission and the governor."