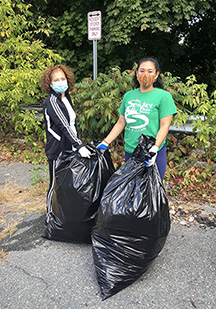 GROUNDWORK LAWRENCE'S SPICKET RIVER CLEANUP GOES VIRTUAL, STREETS ACROSS THE CITY ARE CLEANED
Volunteers from across Lawrence cleaned their neighborhoods to take part in the annual event
Lawrence, MA – Over the weekend of October 3rd and 4th, Groundwork Lawrence's Spicket River Cleanup went virtual, and the effect was anything but–residents from across the city pitched in to clean the streets, sidewalks, and greenspaces around their neighborhood. The cleanup, in its 19th year, would typically have taken place along the Spicket River Greenway. With an eye to maintaining social distance, Groundwork Lawrence advised groups to wear masks and socially distance while cleaning public areas nearest to their homes, with the City of Lawrence joining in to pick-up all the trash collected.
"Community engagement, one of the pillars of GWL's work, had to take a different look this year in order to adjust for COVID-19 safety guidelines," explains Eddie Rosa, Community Engagement Director at Groundwork Lawrence. "This includes all of our annual events–We know it takes the whole community to maintain a clean, green, healthy city, and in this spirit we continue to put on all our events, including the Spicket River Cleanup"
In a year that has brought much change and adjustment, residents of Lawrence show continued resilience and determination to accomplish this work. Armed with cleaning supplies delivered by Groundwork, over 100 volunteers picked up trash and other debris littering the streets and sidewalks in their area. Local community organizations, including SquashBusters, Society of Friends, and Central Catholic High School, coordinated their own group of volunteers and staff to take part in the event.
"COVID-19 has no doubt presented us with challenges, but as we've seen time and again the residents of Lawrence are always ready to rise to the occasion. While we could not have everyone come together in one place for the cleanup this year, we knew we could support the great enthusiasm from the community to participate in the annual fall clean-up" says Heather McMann, Executive Director at Groundwork Lawrence.
This year's cleanup was made possible by GWL's partners at 99 Degrees, Lawrence General Hospital, and the City of Lawrence. Celebrating the effort, participants in the cleanup took to social media to post pictures of their efforts, uniting the volunteers across this virtual space. Scanning through these posts online, it is clear the event had a large impact across the city and beyond (including Mexico!). The array of pictures demonstrates the volunteers' commitment to keeping their neighborhoods clean, a tradition that presses on despite a year that has been anything but traditional.