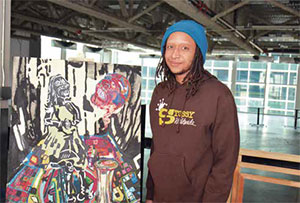 Por Alberto Surís
Located at 46 Stafford St., Lawrence, Massachusetts, IndusPAD is a 596,181 SF high-end class "A" manufacturing facility located in Lawrence, MA. This was originally constructed in 1996 by Malden Mills, a world leader in synthetic fabrics. 
This property is comprised of approximately 15% office space and 85% manufacturing and warehouse space, and provides the flexibility to be re-configured to suit a variety of different uses and needs. The facility is divided into two buildings. The main building is 494,000 SF and second building is 65,000 SF. 
The plant is ideally located along State Road and connects to highway 213 to the North and sits within a mile of Freeway 93 and 495. This property serves as the primary Industrial HUB destination for both local workforces and over 474,234 population within 10 miles and 2,584,967 population within 25 miles.
Build in 1906, Malden Mills was the original manufacturer of Polartec and other modern textiles. The company was located in Lawrence, Massachusetts and also had operations in Hudson, New Hampshire. The factory burned down on December 11, 1995 leaving 3,000 employees out of work. CEO Aaron Feuerstein decided to continue paying the salaries of all the now-unemployed workers while the factory was being rebuilt. In November 2001, Malden Mills declared bankruptcy.
In 2007, Malden Mills was purchased by a newly formed company called Polartec. In December 2015, the company announced that it would close manufacturing operations in Lawrence, Massachusetts, and move its production to plants in Hudson, New Hampshire and Tennessee.
On Thursday, April 12, we met Jitender Makkar. Mr. Makkar is the Principal, CEO of IndusPAD. IndusPAD is an industrial hub to bring together entrepreneurs, startups, infrastructure and experts to the building that once employed 3,000 workers.
Fremont, California-based real estate Broker Jitender Makkar is a real estate investor hoping to turn the nearly 15-acre campus into an industrial innovation hub. "When I heard that this building was for sale, I said to myself, I have to have it", said Makkar from his non-pretentious office while pointing to a large board listing the needs of several companies intending to move here.
According to Makkar, the possibilities are endless for any investor looking from manufacturing to office space in this building. He doesn't discard the possibilities to have from water to a beer bottling plant or both, since the building has a water purifier plant with the capacity to purify as much or perhaps more than the one from the city of Lawrence.
One of the first companies that have moved in is Beyond Organic. Kurt Rebiger, its Project Manager who by using the hydroponic system will be growing lettuce, greens, herbs, basils, microgreens and sprouts using nutrient water, and nothing else. No GMO's, pesticides, herbicides, fungicides, or any other 'cides' you can think of, which produces nothing but the freshest, most nutritious produce possible.
Makkar not only thinks on the business side of the building. Born and educated in his native India, he feels the need of helping the community. Jon Hen is a good example of Makkar generosity by allowing him to use space in this building to continue his art work at no charge. Also at no charge, Semana Hispana has office space as well as space for their events rehearsals.