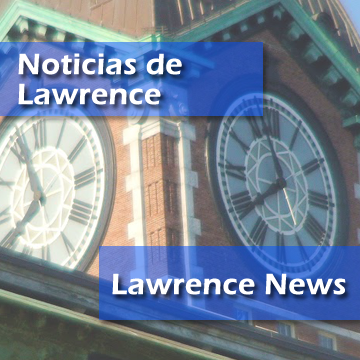 After joining the Boys & Girls Club of Lawrence in 1977, Manny Ayala recalls enjoying all the activities the club had to offer, from the basketball and swim teams to the Torch and Keystone clubs that develop leadership skills.
Since becoming an employee 23 years ago, he has helped provide those and numerous other programs to club kids, including his own three children who have been members. In recognition of his longstanding dedication to youth, he was named a Humanitarian of the Year by the Kiwanis Club of Greater Lawrence at a ceremony on Wednesday, June 7, at the Andover/North Andover YMCA located at 165 Haverhill St. in Andover.
The Kiwanis 2017 Community Service Awards Night honored three other Humanitarian of the Year Award recipients: Andover resident John Pearson, principal of John Pearson Architect; North Andover resident Frank Kenneally, chief operating officer of the Merrimack Valley YMCA and co-founder of the CORE 4 Youth Leadership Summit; and Methuen resident Linda Soucy of Methuen Arlington Neighborhood, Inc. The Lifetime Achievement Award was presented to Bill Fitzgerald, owner of Mann Orchards in Methuen. Bill Burt, executive sports editor of the Eagle-Tribune, served as emcee.
According to James Kapelson, president-elect of the Kiwanis Club of Greater Lawrence, the honorees were chosen for their outstanding service and support of programs, initiatives, and life-changing efforts to benefit the children and families of the Merrimack Valley.
"This event is fundamental to the cause and mission of Kiwanis, which is serving youth in all capacities," Kapelson said. "Attendees of this event help us bring due recognition to these community change-makers, as well as contribute to making a difference in kids' lives."
Ayala, the 14th of 15 children in his family, said he is a "Lawrence kid through and through" who grew up near the housing projects on Hancock Street. He attended the Lawrence Public Schools all but his last year of high school, when he transferred and graduated from Miami Senior High School in Florida. Ayala then returned to his hometown of Lawrence, where he still lives, and became an outreach worker at the Teen Coalition of the Greater Lawrence Community Action Council, Inc.
Ayala joined the Boys & Girls Club of Lawrence part-time in 1993, supervising the wrestling and game rooms. He was appointed as social recreation direction in 1995, and then promoted the following year to boys' program director. As director of program services since 2006, he has coordinated programs and activities for more than 500 youth members on a daily basis.
Ayala's previous honors have included being inducted into the Academic Basketball Awareness (ABA) Hall of Fame in 2007, named the Grand Marshall of Semana Hispana in Lawrence in 2011, and inducted into the Boys & Girls Club of Lawrence Alumni Hall of Fame in 2013.
Ayala said he is "humbled" by the recognition from Kiwanis for his commitment to the Boys & Girls Club of Lawrence's mission of changing kids' lives.
"I am extremely proud to be considered a role model while representing one of the most vital organizations for at-risk youths in the state," he said.