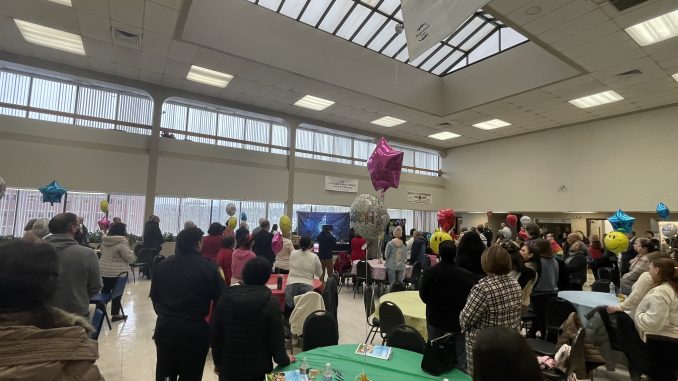 Latino Coalition of Haverhill Kicks Off a New Year with Gala Celebration
More than 200 people gathered at the Haverhill Citizen Center on January 22, 2023, for a celebration of community accomplishments, hosted by the Latino Coalition of Haverhill.
Newly elected Coalition President Argenis Marte welcomed members of the Latino community, elected officials and Haverhill police, inviting the crowd to applaud the achievements of 2022 and look ahead to the possibilities for 2023.
Among the attendees were Haverhill Mayor James Fiorentini; Haverhill Police Chief Robert Pistone; State Senators Barry Finegold and Pavel Payano, and State Representatives Andy Vargas and Ryan Hamilton and Lawrence Mayor Brian A. De Peña.
En asistencia estaban la Superintendente Escolar Margaret Marotta; los concejales Tim Jordan, John Mitchinson, y Melinda Barrett.  También Richard Rosa, miembro del Comité Escolar y Eunice Ziegler, Chair del Concejo Municipal de Methuen.
Senator Payano presented an official citation from the Massachusetts Senate to The Latino Coalition of Haverhill, MA, in recognition of its "steadfast commitment to the Latino community and the City of Haverhill."
DJ Eridania Nieves (ERI Entertainment) entertained the crowd, and several local Latino businesses generously donated refreshments and door prizes.
The Latino Coalition thanks our sponsors: High Street Market, Jaqueline's Convenience Store, D'Empanadas, Pollo Centro, Sebastian's House of Toys, Canela Market, Raquel Quesada, Yonatan Quesada, Leydi Diaz-Breton, GEM program, HHS, and Make It Haverhill.
Chief among the Latino Coalition's 2022 accomplishments was its successful collaboration with Mayor Fiorentini, the City Council, and Rep. Vargas to change the city's voting system.  Now, representatives from each of Haverhill's seven wards can be elected to serve on the City Council and School Committee.
"We now can have representation from every neighborhood in our city on both the City Council and the School Committee.  A voice for all," said President Marte.
Moving forward, the Latino Coalition of Haverhill will begin meeting with groups of residents in Wards 1 and 3 to encourage potential candidates to run for office this fall.  Although the Coalition does not endorse individual candidates, it can provide guidance on navigating the election process.
The Latino Coalition of Haverhill, Inc., is a non-partisan, non-profit advocacy organization located in Haverhill,MA. Formed in 2019, the Coalition's mission is to empower and inspire Haverhill Latinos to be active participants in every facet of the community.  Our motto is "Help ordinary people find power."
Anyone interested in working with the Latino Coalition on election outreach can visit our websitel: latinocoalitionhaverhill.org or email: info@ latinocoalitionhaverhill.org.