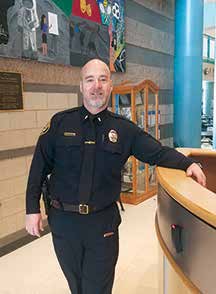 As part of an overall assessment and evaluation of Lawrence Police Department resources, Chief Roy Vasque is announcing that he has assigned Lt. Sean Burke as the Commanding Officer of the Lawrence Police Department's School Resources Unit. He has instructed Lt. Burke to conduct an assessment of the safety and security of all of the Lawrence Public Schools and to collaborate with the School Department Administration to develop a comprehensive school safety strategy.
Lt. Burke will be responsible for developing a new policy and procedure to guide the entire Department's response to any school related incidents. In addition to this new policy and procedure, the Chief has instructed Lt. Burke to develop training for the entire Department on how best to respond to all police related incidents in the schools.
Lt. Burke served as the first Director of Public Safety for the Lawrence Public School's Police/Safety Department where he coordinated all safety efforts, including the creation of their comprehensive school crisis plan, which serves as a national model today.
He is considered one of the foremost experts in school safety and youth violent behaviour, and has been quoted as an expert source in media journals from across the nation and served as an on- air expert, for his work in school based policing.
Lt. Burke is the former President of the National Association of School Resource Officers (NASRO) where he also served as a National Practitioner and a Senior Instructor for over 10 years. He serves as a grant review specialist and subject matter expert for the United States Department of Justice, National Institute of Justice in the area of law enforcement and school safety.
Lt Burke currently serves as the President of the School Safety Advocacy Council.