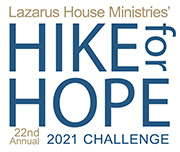 Lazarus House Ministries once again hosts its live virtual Hike For Hope Challenge
New Balance Foundation Returns as the Premier Sponsor
            Lazarus House Ministries will once again host its HIKE for HOPE Challenge, a 5k walk/run, with returning Premier Sponsor, New Balance Foundation. The 22nd annual family-friendly event will be held on the weekend of May 22-23, 2021, which expects nearly 500 attendees. Co-chairing the HIKE are Amy Finegold, Adam Molda of Spark Fitness, and Audra Palermo of A3 Fitness.
            The reimagined HIKE for HOPE is a combination of a live walk/run virtual experience, fundraiser, and food drive. Participate in ALL 3 activities in ONE weekend to complete the Challenge. The more activities you participate in and the more dollars you raise, the more Challenge points you will earn to win fantastic prizes from our event partners, including New Balance Foundation, Spark Fitness, and Dick's Sporting Goods.
            New this year, we will have two LIVE 5K Walk/Run Events, one on Saturday, May 22 to include a New Balance fundraising Matchday and another on Sunday, May 23, both at 10 a.m. Using the Charge Running App, walkers or runners of all ages will join a fun, trainer-lead, live-group class. Choose your course or treadmill while receiving encouragement from a running coach, all while keeping you engaged with their high-energy playlists. Participants can also track their status and chat with others, including our live speakers and our Emcee, radio personality Sue Brady-Hartigan. The idea of the Challenge is to help promote wellness by getting others to walk/run together while raising awareness and critical funds to support families who struggle with food insecurity to put food on the table.
            For the past 38 years, Lazarus House has provided programs and services to support and empower families and individuals struggling with food insecurity, poverty, and homelessness. Throughout the pandemic, Lazarus House has focused on maintaining food distribution, shelter, and housing for families.
            "The number of guests coming to our food pantry and our soup kitchen has increased exponentially, said Jeff Hassell, Lazarus House's Executive Director. "We added staff and safety protocols to keep our vital programs open and our Guests and staff safe. The support of our generous community will allow us to open doors for more than 18,000 families every year, a number that keeps growing as our community grapples with the myriad challenges posed by COVID-19. We are extremely fortunate to have such amazingly generous co-chairs, volunteers, staff, and corporate partners supporting us. This event exemplifies the support Lazarus House receives from the community."
            A special thank you to our premier sponsor, New Balance Foundation, and the many generous sponsors that help fund our mission. For partnership and sponsorship opportunities, contact Kelley Granahan, Lazarus House, at 978-269-5212. For event information, contact AJ Williams, AJ Events at 617-267-2244 or aj@ajwevents.com for additional information.
            Registration is $15. Every registered participant will receive a branded mask, a downloadable official certificate of achievement, and souvenir bib number, as well as access to all weekend activities, including a pre-HIKE training program. To register or for more information, visit hikeforhope.org.
About Lazarus House Ministries:
            Located in Lawrence, MA, Lazarus House Ministries helps courageous women, men, and children living in poverty since 1983. We offer life-saving services in the areas of food, shelter, clothing, advocacy, and community resources to over 25,000 households annually. Our core programs provide Nourishment, through daily served meals (300+) and weekly groceries (1100+ families), Stability, through emergency shelter and transitional housing, Comfort, through highly affordable clothing, housewares, and furniture at our thrift store locations and Care, Guidance and Empowerment through advocacy and case management.