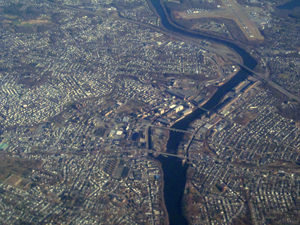 Steep fines, potential jail time part of bill on its way to governor
The House and Senate today passed legislation cracking down on illegal dumping on public property in Lawrence, establishing an enforcement program that includes fines up to $10,000 and potential jail time up to one week.
The bill — H.3860 — is now on its way to Gov. Charlie Baker for his signature and enactment.  Lawrence City Council previously passed the measure.
"Illegal dumping has long been a problem in Lawrence and is a constant source of frustration for many officials and residents who are dedicated to cleaning and improving their city," said Sen. L'Italien, who represents Lawrence as well as Andover, Tewksbury and Dracut.
Sen. L'Italien noted that the Lawrence City Council and Mayor Dan Rivera have been stepping up their efforts to combat illegal dumping.
Specifically, the legislation prohibits the dumping, disposal or discharge of  "any refuse, rubbish, garbage, household goods, appliances or furniture, construction debris, landscaping debris, scrap, trash or other material of any kind on any way, public or private, appearing on the official map of the city of Lawrence."
"I stand with my fellow colleagues of the Lawrence legislative delegation in celebrating the passage of this important legislation," said state Rep. Diana DiZoglio, D-Methuen.
"This is a bill that will crack down on illegal dumping offenders who for too long have hindered the great efforts of those who work hard to keep the City of Lawrence clean."
"This legislation is big step forward in ensuring a clean and environmentally responsible Lawrence for residents and visitors to this great city," said state Rep. Frank Moran, D-Lawrence.
The bill creates a series of punishments for persons found guilty of illegal dumping, including fines between $5,000 and $10,000, imprisonment in the house of corrections for no more than 7 days, or both fine and imprisonment.
"It is our hope that these steep penalties will help serve as a deterrent for dumping, which has been a big problem in Lawrence," said Sen. L'Italien, who noted that all fines collected under the legislation will go back to the City of Lawrence.