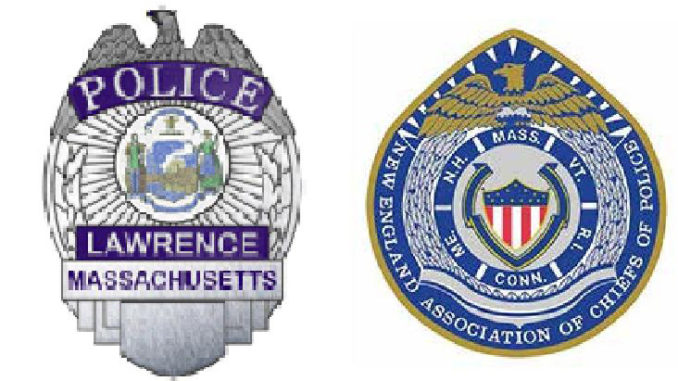 LPD Earns Community Policing Award
Tops New England Large Cities in 2019
Mayor Daniel Rivera with Lawrence Police Chief Roy Vasque, proudly announce that the Lawrence Police Department was awarded first place in "Community Policing" among communities with over 50,000 residents within the New England Region by the New England Association of Chiefs of Police (NEACOP).
"I want to congratulate our Police Department on receiving this award, and I want to thank NEACOP on recognizing the commitment of our Department," said Mayor Rivera. "Under the leadership of Chief Vasque, we are policing smarter and creating ways to bridge the gap between the police and our community. We have made great progress in diversifying our department, which for the first time a majority minority police department. We are utilizing community policing as a tool to quell criminal activity, using open gyms to keep kids off the streets and circulating the LPD Free Ice Cream truck to have a police presence in our neighborhoods. In these times where the distance between communities (especially communities of color) seem to be widening this award shows that the work we are doing in Lawrence, an immigrant city, is having some impact; we however know there is work still to do"
"First and foremost, I want to thank Chief Roy P. Vasque for his leadership and for always being there for the Tower Hill Neighborhood Association as well as the Officers of the Lawrence Police Department for their commitment to Community Policing. Our partnership has created a stronger and more united community and we are excited for future collaboration. Congratulations on receiving this year's NEACOP Community Policing Award, it is well earned," said Elsa Sanchez, President of the Towerhill Neighborhood Association.
The Lawrence Police Department has demonstrated strong community partnerships, with a diverse combination of groups and organizations in the City. In addition to running its own Citizen's Police Academy for adults and Junior Police Academy for high school aged students, as well as an Open Gym basketball program, the Department has worked to support numerous neighborhood groups throughout the City.
Along with this, the Department has assigned a liaison to the business community and has officers regularly on foot and bike patrols. The Department also supports the Special Olympics and works with other unique annual community events in the City. Officer accessibility has been a main priority for the Department. To this end, the Department has regularly scheduled events like Coffee with a Cop, and the circulation of its Free Ice Cream Truck throughout the city on hot summer days.
The NEACOP Community Policing Award is focused on how Police Departments embrace the concept of community policing on a regular basis and how these Departments sustain partnerships with groups in the community that they serve. The New England Association of Chiefs of Police serves the entire New England Region and Departments from Connecticut, Rhode Island, Massachusetts, Maine, New Hampshire and Vermont were eligible to apply.
The collective efforts to strengthen community policing made Lawrence's effort noteworthy and earned the Department this recognition. "I am extremely grateful and humbled that the NEACOP Committee awarded the Lawrence Police Department the 2019 Community Policing Award," says Chief Roy Vasque. "To be recognized in this way among so many deserving Departments from across New England is quite an honor. I am proud of the commitment the men and women of this Department make each and every day to foster positive police/community relationships."