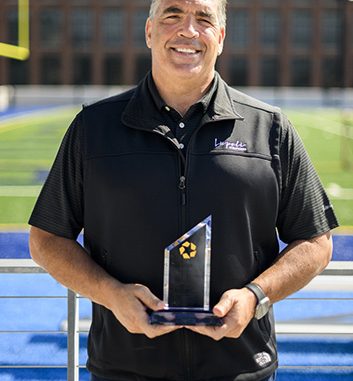 Lupoli Companies premiada como Desarrollo Comercial del Año en Boston por CoStar.
The Pavilion at Riverwalk ganó recientemente un premio CoStar Impact Award 2023 por el mejor desarrollo comercial en el área de Boston, según lo juzgado por un panel de profesionales experimentados en bienes raíces.
The Pavilion at Riverwalk es un edificio de uso mixto de 80,000 pies cuadrados que ofrece 4 pisos de espacio para tiendas, oficinas y conferencias. La propiedad cuenta con un estacionamiento para 1,250 autos y su característica principal, un campo de atletismo de césped de tamaño reglamentario ubicado encima del garaje. El Pavilion Field tiene vista al Río Merrimack y ofrece hermosas vistas de la histórica torre del reloj de Lawrence.
Oficialmente, el desarrollo se inauguró en septiembre de 2022. A las pocas semanas de comenzar la construcción, el campo deportivo estaba completo para toda la temporada de otoño. Como un gran defensor del atletismo y la educación, Lupoli Companies ha donado el campo a los programas de fútbol y fútbol juvenil de la ciudad, mientras que muchas organizaciones privadas lo alquilan para una variedad de eventos diferentes.
El Pabellón "ha brindado a los residentes de Lawrence la oportunidad de disfrutar de un campo de deportes al aire libre dentro de los límites de la ciudad, donde la mayoría de los residentes no tienen los medios para viajar fuera de la ciudad para disfrutar de las mismas comodidades", dijo Drew Kirkland, uno de los jueces de los Premios Impact y asociado sénior en Northeast Private Client Group.
Los premios anuales CoStar Impact Awards celebran a los profesionales de bienes raíces comerciales que han aportado liderazgo, innovación y profesionalismo a sus mercados, destacando transacciones y proyectos encomiables. El premio reconoce transacciones y proyectos de bienes raíces comerciales ejemplares completados en 2022 con una influencia significativa en vecindarios o submercados en 128 mercados principales en los Estados Unidos, Canadá y el Reino Unido.
Acerca de las Empresas Lupoli
Lupoli Companies es una organización galardonada con más de dos décadas de crecimiento y desarrollo en Nueva Inglaterra. Nuestro enfoque es crear oportunidades en Gateway Cities en todo Massachusetts que transformen las comunidades a través de la creación de empleo y el desarrollo económico. Lo que comenzó como una pequeña empresa familiar, la industria hotelera creció para incluir más de seis millones de pies cuadrados de marcas innovadoras en bienes raíces comerciales y residenciales. Estas industrias centrales, aunque independientes, están unidas por el deseo de seguir mejorando los productos y servicios en las comunidades a las que servimos.