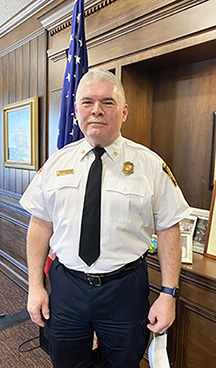 MAYOR APPOINTS DEPUTY CHIEF ROBERT M. O'BRIEN AS NEW FIRE CHIEF
Swearing in ceremony scheduled for Monday at 1:30 PM
 Mayor James J. Fiorentini announced that he is appointing Deputy Fire Chief Robert M.  O'Brien as the city's new Fire Chief.  Deputy O'Brien will be sworn in in a ceremony at the Water Street Fire Station on Monday, February 22 at 1:30 PM.
Deputy O'Brien has been a member of the Haverhill Fire Department for 28 years since 1994.  He has steadily risen through the ranks of the fire department.  He has been a deputy chief for 11 years.  During his service in the Fire Department, Deputy Chief O'Brien has served in every rank and in every fire station in the city and in the Fire Department's Inspection and Prevention Unit which is stationed in City Hall. He has been on the scene in countless numbers of fires.  Deputy O'Brien was injured in a very serious blaze that took place in Bradford around 14 years ago.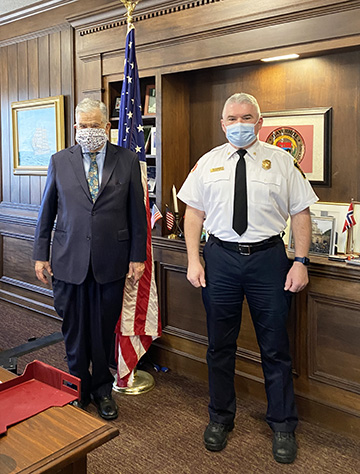 Deputy O'Brien, prior to being a Haverhill Firefighter, managed his family's ambulance business. 
In making the announcement, Mayor Fiorentini said that Deputy O'Brien emerged from the detailed recruitment and testing process as the most qualified for the job.  "He was given a test, called an assessment center, where he was questioned at length by a number of current and retired Fire Chiefs. He successfully passed the test and showed he has the background, knowledge and experience to run the Fire Department."
Deputy O'Brien has a Bachelor's Degree in Fire Science and a Master's Degree in Public Administration.  "His willingness to continue to learn and his dedication to the Department and to improving his own knowledge really came through in the interview process," said Fiorentini. 
In making the appointment, Fiorentini said that he had complete confidence in the new Fire Chief to continue the progress that has been made in the Fire Department:
 "Over the past five years, under the able leadership of Chief William Laliberty, the Fire Department has made great progress.  Stations have been upgraded.  New fire trucks and other equipment has been ordered.  The morale of the Department has been uplifted."
 "After spending many hours in interviews, I am confident that Deputy Chief Robert O'Brien has the necessary skill set to continue this progress and move the Department forward. He is already familiar with every man in the department, and with the fire plans for every large building in the city.  He is ready to go on day one.  He fully understands the Fire Department and firefighting and will fight to keep the people in the Department safe.
I have asked him to pay particular attention to recruiting more minorities and women."