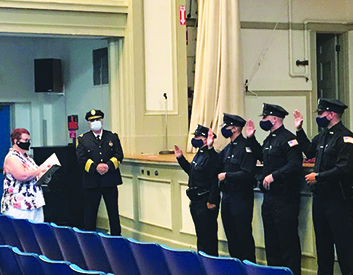 ---
Mayor Fiorentini Announces 13 Haverhill police recruits
New Hires to Replace Retirees, Fill Open Positions
Thirteen new recruits were sworn-in as official Haverhill police officers today – the same day they graduated from the police academy.
The patrolmen are expected to hit the street in about 3 months after they complete the department's local training program. They were hired by the city shortly before they started at the police academy.
"These new hires bring us to a total of 102 sworn officers — the highest number of officers actually on the street in recent history and perhaps ever," Mayor James J. Fiorentini said. "The city has been reaching out to diversify its police force and its workforce in general and these 13 new recruits, which include five minorities and two female officers, are a significant step in that direction."
There are currently 12 female officers on the Haverhill force, of which four are supervisors.
The new recruits were given the oath at City Hall auditorium at a ceremony that included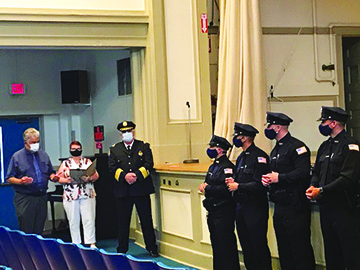 , other senior police officers and friends and family. City Clerk Linda Koutoulas performed the oath of service.
Mayor Fiorentini welcomed the 13 new recruits, thanked them for joining the force and said he looked forward to working with them.
"This is a tough time right now for police officers," the mayor said. "We have been understaffed in Haverhill because of retirements so we welcome the opportunity to fill some of our vacancies and put officers back on the street.  Keeping our citizens safe is always a top priority in this city."
At the same time, the mayor said the city needs to do more to find jobs and other opportunities for its youth.
"This year, we are using our federal block grant money to fund outstanding street programs like Leaving the Streets Ministry and UTEC to be able to work with our young people," he said.
Mayor Fiorentini's proposed 2021 city budget includes funding to bring the police department staffing up to 110 sworn officers – also the most in city history. The new recruits will fill vacancies primary caused by retirements and hiring delays caused by the lengthy civil service process.
The new recruits are:
Jhonathan Almonte
Douglas Angus
Angel Aviles
Jamal Babiker
Timothy Campbell
Jared Grazio
Geraldine Jimenez-Rivera
Daniel McDonagh
Parker Rogers
Kaylee Sarfde
David Steed
Daniel Surette
Camden Titus