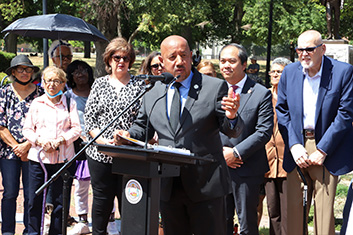 Merrimack Valley/North Shore Mayors demand the State Senate Returns, Approve the Economic Relief Now
The City of Lawrence Would Receive over $2.5 Million to Boost Several Projects and Programs
             Mayor Brian A. De Peña hosted a joint press conference in solidarity with State Senator Diana DiZoglio (D-Methuen) along with Lowell Mayor Sokhary Chau, Methuen Mayor Neil Perry, Haverhill Mayor Jim Fiorentini, Amesbury Mayor Kassandra Gove, and Newburyport Mayor Sean Reardon to demand state legislators to return to Beacon Hill and complete the unfinished Massachusetts Economic Relief.
Senate Bill No. 3018 is an act relating to economic growth and relief for the Commonwealth to direct how to spend federal funds through the American Rescue Plan Act (ARPA). "We urge the Senate to approve this bill as soon as possible because every day this essential funding is delayed is another day of struggle for our low-income residents, Said Mayor De Peña."
The mayors agreed that legislators are elected to ensure the economic stability of their constituents by preventing the erosion of essential economic resources. "We are here to demand, not to request, that our legislators to approve this bill now," said Newburyport Mayor Reardon. The City of Lawrence would receive over 2.5 million dollars in this economic relief bill, which includes:
$1M for the Resilient Lands Initiative
$1M for assessment and remediation at the Tombarello Junkyard
$175K for Lawrence Council on Aging
$100K for Merrimack Valley Public Safety Youth Center
$100K for the Lawrence Partnership
$50K for recreational programming and summer job opportunities to at-risk and low-income youth
$50K for Youth Development Organization
$50K for St. Alfio Society
$25K for IntenZe 978 Boxing Club
$20K for Greater Lawrence Boating House
The mayors were also joined by State Representative Marcos Devers, City Council at-large Ana Levy, and a group of elderly residents from The (Senior) Center led by the Director of Health and Human Services, Martha Velez.
The committee on Ways and Means to whom was referred House Bill relating to economic growth and relief for the commonwealth (House, No. 5034); reports, recommending that the same ought to pass with an amendment striking out all after the enacting clause and inserting in place thereof the text of Senate document numbered 3018. (This legislation has a cost of $2,913,120,941 in operating resources and $1,386,800,000 in capital. These sums shall be made available until 7 June 30, 2027.
For any questions, please, contact the Director of Communications, Nestor Castillo, at 978-620-3016 or nestor.castillo@cityoflawrence.com.
###