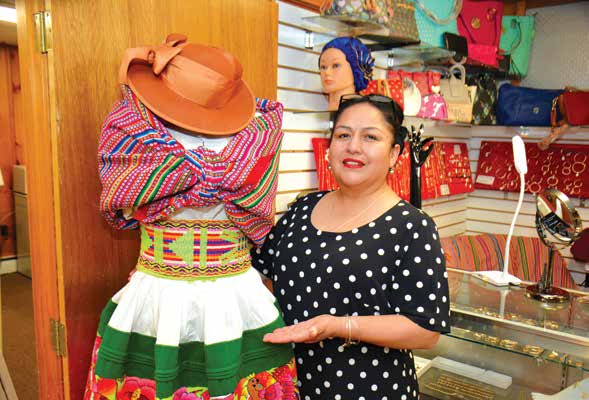 By Alberto Surís
My Little Peru opened its doors for the first time some time ago at 191 Essex Street, now it has moved to 264 on the same street, entering through the same door that gives access to the offices of the Merrimack Valley Chamber of Commerce.
In this new place, in addition to the space dedicated to the sale of Peruvian handmade crafts, she already has a space dedicated to train women in manual arts with which, can earn their livelihood from their homes. "But first, I give them personal development classes."
Personal development includes activities that improve awareness and identity, promote the development of personal skills and potential, contribute to build human capital and facilitate employability, improve the quality of life, and contribute to the realization of dreams and aspirations.
This explanation describes the personality of Sonia Terbullino who made herself known when, on June 20, 2015, at a meeting in the gymnasium of Saint Mary of the Assumption Church, organized by Merrimack Valley Project. They were seeking legislative support for undocumented immigrants living in Massachusetts.
Specifically, MVP was asking Lawrence to support two bills – Safe Driving Act and the TRUST Act. The Safe Driving Act has already been passed in 11 states including Connecticut and Vermont and would allow Massachusetts residents without a Social Security number to obtain a driver's license. The TRUST Act would limit the way authorities, at any given time try to enforce federal immigration laws.
"I am undocumented but not incapacitated," said Sonia Terbullino at that meeting, when it was her turn to offer her testimony. Sonia is originally from Peru and has lived in Lawrence for 11 years, not of public charity as many think of the undocumented. With her entrepreneurial spirit and incredible energy, Sonia has founded two small businesses, My Little Peru, at 191 Essex Street, in Lawrence and at the Flea Market in Salem, N.H.
In addition, Sonia is the founder of a nonprofit organization, Manos en Acción, in which she has been working to promote entrepreneurs, 17 in total, which in turn have been established in different businesses. In June 2014, Forbes Magazine published an important article entitled "Finding the New Zuckerberg in Lawrence, MA" where it mentioned Manos en Acción as an example of a business incubator. (Zuckerberg is the founder of Facebook).
In August 2013, Sonia won the first prize of the Lanza tu Idea contest from the EforAll organization, she has been working as a volunteer at Lawrence CommunityWorks for almost 10 years, and she has also been a volunteer teacher at Lawrence YMCA for 3 years teaching social studies and Spanish language classes to people who need to get the GED. "Today is a historic day for Lawrence if we could pass these two laws. Not having a driver's license has stopped me. ¡I could do so much more!" said Sonia.
That was in 2015, 3 years later, Sonia is still struggling to obtain the necessary documents to legalize her residency in this country. "I would like to study social justice or international law or diplomacy at a university, something that would enable me to continue helping my community," she said.
The classes offered free of charge by Sonia will be held on Wednesdays from 6:00 a.m. to 8:00 P.M. during the summer and from 4:00 to 6:00 P.M. in winter.