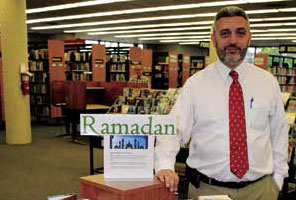 Seems like yesterday when the Library of Lawrence Board of Trustees chose Maureen Nimmo as its executive director. It didn't take much time to make herself known.  Maureen did not come only to keep the public library open to the public but rather to use it to increase our community's knowledge.
Shortly after starting at the library, Maureen suggested that she would like to write a column in Rumbo where she could report of all available material for free at the library.  We found it amazing that a head of a department was willing to inform the community, step by step, about everything that was going on in her department.
Maureen's bi-weekly column soon became a favorite of our readers. She always wrote with incredible courage, showing unparalleled passion for the work she was doing.
Suddenly, the column stopped. We thought it was an oversight, to learn that Maureen was in a hospital in a coma. What would happen to the library without her?
Fortunately, Kemal Bozkurt, who had been working there for over 15 years and  less than two years earlier had been promoted to her assistant and admits to having learned from her all he knows, was entrusted with the interim management of the library. His first decision was to continue with the established programs and in his article on page 15, he states that the Lawrence Library continues to function very well and continues to advance.
Maureen is recovering and we hope that soon she will return to her activities, meanwhile we are confident that the Library of Lawrence is in good hands.