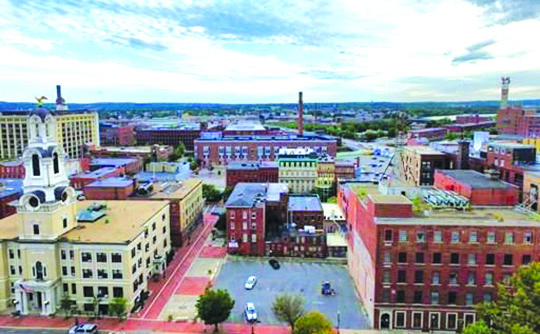 By Dalia Diaz
It has been brought to the attention of Rumbo that a new document has been introduced into the City Council which will allow a public land to be used by a private owner. In just the same manner that a private land cannot be used, or cleaned-up, by the City of Lawrence, the opposite also applies. Here is why we believe this approval is wrong.
Supposedly, the building at 226-232 Common Street is in reconstruction or remodel. This building used to be the old telephone building back in the 1960s and 70s and is located next to City Hall parking lot. The building is being remodeled for apartments and Mayor Rivera, and the Office of Planning & Development; want to give a slice of the city property, for use, to the new owners for a parking entrance.
Now, we all know that the parking division is revenue-generating division of the City (an Enterprise Fund.) It's somewhat the same, on how the Water Division, the airport and the cemetery generate money, meaning that the employees' salaries, benefits, and cost are all taken from the revenue generated from the parking fees of every parking lot and garage operated by these union employees. No local or grant budgets have been allowed to be used in the parking division's budget.
Providing permission for use and according to the owners' building plans, this supposed easement will eliminate three or four parking spots for a loss of revenue. Four spots are enough to pay for a parking attendant's annual salary. The lost spots will be used to allow the new owners access into their yet to be built garage entrance.
Let's educate the councilors on a public easement. A public easement benefits an entire community. A "public" easement is one for the use, benefit, and enjoyment of the public, such as a sidewalk, street, alley or public way, or a public pier or beach access. When I lived in Chelsea, the easement next to my house was meant to be left open for the neighbors to access parking in their backyards and the fire department in case or emergencies. The land belonged to the city.
But what the mayor is trying to do should not be called an easement of any kind because the only ones benefitting are the owners and possibly the future tenants. Once this is done, it will be permanent and the Trejo Brothers will own that piece of land and the value of their property will jump sky high.
So the Lawrence City Council should tread lightly in this process. I gather you are being taken to the cleaners just so that Mayor Rivera can have more of his friends build apartments for his "much-needed housing study".
In case the City Council approves this, they will be giving this to not only the current owners but any owners after.
Picture taken from Realtor.com