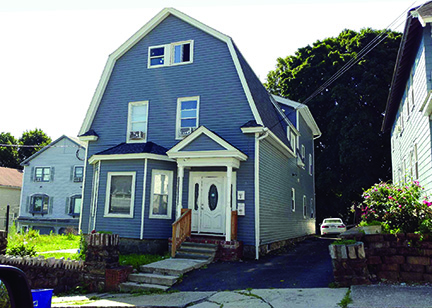 By Dalia Díaz
When the Prospect Hill neighborhood noticed the paving of the backyard at 5 Harriman St. going on, they knew they were in for trouble.
I have been hearing complaints from the neighbors about this house because the city was not doing anything.  They feared that paving the backyard for additional parking was a sign that it was going to be a party house or after-hours drinking place.
As time went by, there were indications that there must a "brothel" due to the amount of people going in and out.  They did what many people have done in this city and got away with it.  Home remodeling takes place during the weekends when there are no city inspectors around and property owners don't bother requesting permits for any type of renovation.
Since neighbors couldn't see a response from the city, they asked Councilor Ana Levy to look into it and she was working with me on the investigation.
Many of those renovations end up being illegal apartments and do not comply with safety regulations.  We know it because there have been many times when the fire department goes on a call they find multiple families living in illegally subdivided apartments.
Then, finally, it happened.  Several city departments converged on the property and they found that this two-family house had been converted into 14 units. City officials spent many days dismantling the illegal apartments.
"The Lawrence Police Department has been responding to various complaints regarding 5 Harriman Street. The complaints have been for loud music, loud parties, traffic and parking issues. The department has issued numerous citations to various occupants for their disruptive activities," said Police Chief Roy Vasque.  "In recent weeks we have been working with Inspectional Services and several neighbors, gathering information regarding possible illegal apartments at this location. As a result, a full inspection was done on 5 Harriman Street with various city departments. I'm told as many as 14 illegal apartments were discovered. The owner of the property was contacted and cited for various code violations," the Chief added.
According to Michael Armano, Inspectional Services Director, "From a housing perspective, Inspectional Services Code Officials found several violations including (1) multiple dwelling units below grade and not habitable, (2) unsafe means of egress, (3) failure to obtain Certificates of Occupancy for Rental Units, (4) operation of a Rooming/Lodging House without zoning approval, (5) missing or nonfunctioning smoke/carbon monoxide detectors, and (6) failure to maintain the common areas free from the garbage."
Inspectors visited this property on at least 6 occasions during July and will continue to visit the property until all issues are resolved.
"It is my understanding that as a result of the enforcement the majority of the people living in these illegal apartments have since left the building. We will continue to monitor the situation and address any further issues that may develop," stated Chief Vasque.