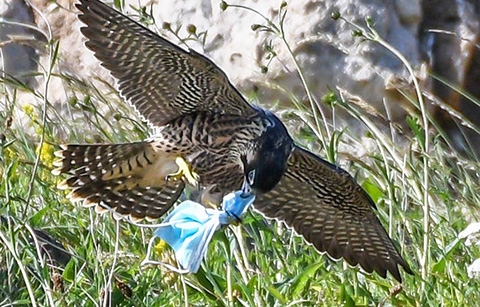 Proper disposal of your masks and gloves – not on the ground!
By Dalia Diaz
Recently I received a request from Ashley A. Clark to make the public aware of the dangers for wildlife when proper disposal is not followed.
She wrote after seeing a video of a New Hampshire resident showing a blue jay bird caught in a disposable face mask. "The strings strangled him to death before the person was able to set the blue jay bird free. The blue jay took his last's breaths in his hands. The video showed the bird flapping away in terror being caught in the disposable face mask strings and his death due to the face masks strings," she said in her emotional message.
"I am hoping you might do a story on alerting the public to please cut the strings on their face masks when they are disposing of them. I believe if you do this story if will save the lives of MANY birds and other helpless wildlife. Please let me know what you think. Thank you very much. I really appreciate your consideration on behalf of the birds," Ashley concluded.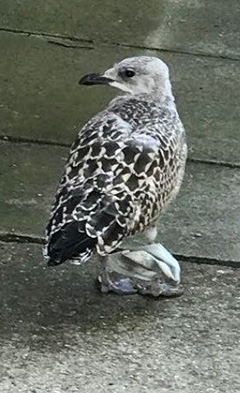 As an animal lover, she touched me.  Seeing gloves and masks on sidewalks and parking lots is a health hazard besides annoying.  The rivers and seas are suffering with the mountain of plastics discarded which affects all sea creatures.  Dolphins, turtles, and other marine animals can easily choke or suffer from fatal bowel obstructions when they mistake personal protective equipment for food.  With the pandemic, the problem has become more visible because it's everywhere.