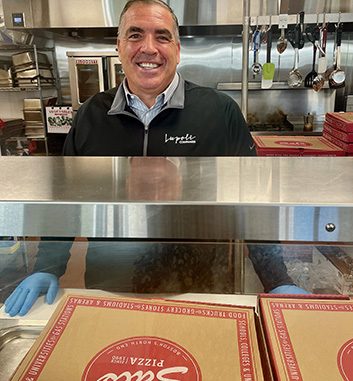 Sal Lupoli donates tractor trailer full of supplies to Puerto Rico
December 1, 2022 – Last month, a local developer and entrepreneur Sal Lupoli donated a tractor-trailer full of supplies to Puerto Rico. The donation included 24 pallets of diapers, bottled water, and other supplies.
Lupoli made the donation on behalf of his family and Riverwalk Properties, headquartered in Lawrence, at the request of "a very dear friend". He said when he heard that families did not have diapers or clean water for their babies, he was happy to make the donation.
"My family and I are so blessed to have more than we could ever need," said Lupoli, "Hopefully this donation will make a difference for the many families in Puerto Rico who are struggling."
The donation was dropped off to a local group of Puerto Ricans, known as Borinqueños Unidos, on 440 North Canal Street in Lawrence. Lawrence firefighters Juan "Manny" Gonzalez and William Pagan, along with Mayor Brian A. DePeña, Fire Chief Brian Moriarty, Police Chief Roy Vasque, and many members of the community, were in attendance to accept the donations. The plan is to collaborate with Puerto Rico's local fire departments to determine where their efforts could be most successful. "For the past few months, every volunteer and member of this community has worked tirelessly to raise awareness of what brother and sister are experiencing on the island," said William Pagan, director of Borinqueños Unidos "We sent not one, but two shipping containers filled with relief items for those on the island because of members of this community like Sal Lupoli."
Both of the containers are currently traveling to Puerto Rico, according to Juan "Manny" Gonzalez, a Lawrence firefighter and native of Puerto Rico. "It is a true honor to be able to collaborate with community leaders on behalf of our beloved island Puerto Rico," said Manny Gonzalez, a member of Borinqueños Unidos "When I picked up the phone and called Sal Lupoli, he committed without hesitation to helping those in need on the island, and for that, he is an angel sent by God."
Borinqueños Unidos is still looking for contributions to help with the operational and distribution costs. Checks can be made out to "ICDPR-Borinqueños Unidos" and sent to P.O. BOX 712, Lawrence, MA 01842. Digital Federal Credit Union has assigned Borinqueños Unidos bank account number #47358460. You can submit a donation to Borinqueños Unidos to support our beloved Isla del Encanto online through GoFundMe or at the fire department headquarters at 60 Lowell St., and at firehouses throughout the city.