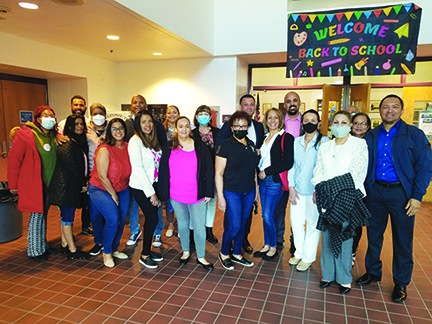 School cafeteria workers continue their plea for a raise
By Dalia Díaz
The regular meeting of the Alliance for Education took place at the South Lawrence East School on May 11 and the representative group of workers from the school department cafeterias made their presence known as usual.
They were supported by City Councilors Jeovanny Rodriguez, Gregory Del Rosario, Pavel Payano, and Stephanie Infante. Also present was School Committee Member Lenin Roa and some concerned parents and no one from the SEIU Local 3 that represents the workers.
Employees from several schools addressed the board explaining their predicament which included poor working conditions for very little pay. One of their problems is that when equipment breaks, they have to manage it in whichever way it can result in bodily injury, marked for life and nobody seems to care.
Looking at the scars left on their arms from carrying scalding pots and mashing potatoes by hand one can only wonder why they keep doing it and they all say the same: because they love what they do, working with the children.
They were very respectful in their assertions but that was not the same when the councilors addressed them. Councilor Rodriguez was very firm in referring to Superintendent Paris refusing to attend the council meetings as she has been requested to do; then he insisted on the need for an increase in pay for cafeteria workers. Through all of this, Superintendent Paris was leaning on her chair as a simple spectator, not the person responsible for them being there.
Councilor Pavel Payano was powerful when he said "it's infuriating to see people beg for money, extremely infuriating and not a way to negotiate.
"I am here to demand! I am asking for respect!"
Gregory Del Rosario was equally ardent in fighting for the workers but he ended on a great note: "Please resign!"
When the LEA Board started their meeting, the group came out to exchange ideas of how it was and discuss other means to get their message across the administration.
Then, the Student-Member of the Board Domely Salcedo joined them. She understands their predicament and wishes there was something she could do.