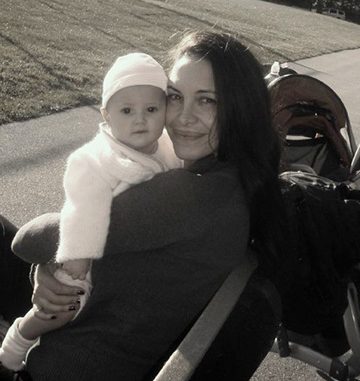 An interview with Pilar Maté
By Dalia Diaz
In recent weeks hundreds of people in Massachusetts have seen the photo of this mother circulate on numerous social networks. She is Pilar Maté who, overnight, has become the center of media attention for doing what until now no one had dared: Cause a real revolution at Essex's Probate & Family Court through her ongoing support for the Bill presented by Representative Lenny Mirra for the removal of Judge Abbe Ross.
Ross was initially nominated in 2014 by then-Governor Deval Patrick and began practicing in Suffolk County.
Pilar Maté, born and raised in Spain, resides in the United States since 1993, has been an American citizen since 2012 and during our interview, she told us "I have always trusted the American judicial system, but after my experience, I am truly ashamed of the immense lack of ethics and of the complete disorganization that the Commonwealth of Massachusetts exercises in the family courts".
It is known that in recent months, numerous complaints have arisen from lawyers who have encountered continuous delays, impediments, and suspicious behavior in filing documentation for their clients. "It is a systemic problem, there is not a single person responsible for this circus, but a set of agencies and departments that refuse to exercise transparency and fairness. If the courts ran like clockwork and the judges did not commit atrocities, there would be less need for lawyers, who are the first to witness the injustices that occur in family court, as well as the abusive behavior of some judges. For fear of being disadvantaged in future cases, they prefer to bow their heads and remain silent in the face of these injustices. The Commission on Judicial Conduct itself decides to look the other way when they receive continuous complaints about a judge; they are not interested in recognizing that there is a problem because by doing so they would be openly admitting that the system does not work, that it does not protect the constitutional and civil rights of citizens. It is shameful but there are many political and economic interests involved".
Rumbo published Pilar's story on March 15 of this year and more than 1,500 people have seen it to date.
The bomb exploded with the publication of an article about the bill in the Massachusetts Lawyers Weekly with at least seven thousand subscribed lawyers and judges. In response and no state of panic, days later a letter initiated and promulgated by attorney Amy Hubbard, a close friend of Abbe Ross, has come to light, collecting signatures from other attorneys in support of the judge. We do not know if the judge asked these lawyers to sign or if the initiative came from her friend Mrs. Hubbard.
In any case, it is a violation of the ethical canons of judicial conduct to show favoritism and impartiality in a case like this.
The question we all ask ourselves is what will happen to all the cases that are in the hands of Abbe Ross and the lawyer representing one of the parties who has signed that letter of support?
"I believe that by signing that letter of support, they have opened a Pandora's Box to speculate that acts of favoritism and impartiality, as well as pacts under the table and corruption, occur daily in our family courts," explains Pilar. "Ethically, all the lawyers who have signed this letter should have remained on the sidelines, but there are many economic interests involved and unfortunately the BBO (Massachusetts Board of Bar Overseers) looks the other way and pretends not to know anything about what it's happening".
Maté had custody of her eldest daughter until the age of 8. On August 11, 2017, she was assaulted by the father of her daughter in a parking lot while he was chasing her with her cell phone recording and causing an incident that resulted in Maté's arrest. Immediately, he used this incident in October 2017 to secure a temporary full custody order with Judge Randy Kaplan, putting her mother on supervised visitation for 2 hours a week.
Kaplan wanted to make sure the girl was okay with the father due to multiple allegations by the minor that the father forced her to produce videos for later use in court. He called the two parties 9 weeks later to assess how the little girl was with the father, but unfortunately, the case had passed into the hands of Abbe Ross, who opted for the easy thing keeping everything the same, instead of familiarizing herself with the case and reading the 8-year archive with more than 300 pages.
Months later, during the criminal trial of her mother, the father made use of the Fifth Amendment, basically admitting that that day August 11, 2017, he was committing a crime. All of Pilar Maté's criminal charges were dropped. However, she had already lost her daughter in family court.
Abbe Ross granted 4 days of trial in 2019 to both parties to decide custody of the little girl. During the trial, several witnesses participated in support of the mother: a Guardian Ad Litem, who had done 2 investigations, the minor's pediatrician, together with her therapist, and 3 supervisors of the visits. Likewise, the girl's statements were presented through DCF and a psychiatric report on the girl. They all concluded that the girl did not want to live with her father and that she was traumatized by the hundreds of videos that her father forced her to make to accuse her mother.
Something important to mention is the fact that Harvard Vanguard Atrius Health, the medical institution that the girl attended to see her pediatrician, was forced to suspend the child's care as soon as the father obtained custody since the pediatric medical staff began to receive constant threats from him. After a first formal notice through a letter addressed to her father and seeing that the threats, instead of disappearing, became more aggressive, the girl lost the pediatrician who had treated her since the age of 2 years.
The therapist who treated the girl for two years was also removed as soon as her father obtained custody.
"The first thing someone does when he wants to manipulate you is to isolate you," she told me. That is exactly what the father did, he eliminated the complete circle of the little girl where she had a voice and began to progressively erase the presence of the mother in the life of the girl, denying her supervised visits and not informing her of absolutely anything of what was happening in the girl's life for all these years.
The judgment of the trial came out in May 2019, completely ending the figure of the mother in the girl's life and granting all the rights of legal and physical custody to her father. "I had two options: surrender, commit suicide, abandon… Or fight tooth and nail to get my daughter back and to obtain justice. I didn't hesitate for a minute".
It was at that moment that Pilar Maté began an insatiable search for other victims of Abbe Ross's wrongdoing. "I don't even know how I didn't lose my job, because I have to confess that I spent at least 15 hours a day investigating and contacting possible victims of Abbe Ross. It was a very long process and a lot of emotional effort," she said emphatically.
She was finally able to assemble a group with multiple similarities as to how Abbe Ross had completely ignored the testimony of all the witnesses for one of the parties, how he had misrepresented and lied throughout the sentence, and how he had eliminated one of both sides. The group filed hundreds of complaints with the Judicial Conduct Commission, some of which led to an investigation.
They contacted their state representatives: "We made noise, a lot of noise … And finally, with the support of Representative Lenny Mirra, we obtained a Bill of Address – or Bill – for the removal of Abbe Ross. Since then, both Rep. Mirra and the group have not stopped receiving constant emails and calls from more victims. In part, it is encouraging, because you realize that you are not alone and that you will have more people testifying, but on the other hand, it is sad to know that so many lives have been shattered, that so many children have been taken away from their parents or siblings. And no money in the world can give you back all the moments you have lost with a child, I will never be able to have any reward that gives me back what Ross took from me and my daughters".
Currently, the office of State Representative Lenny Mirra continues to collect hundreds of letters daily in support of the Bill, and in a few months, a committee will be assigned to the Bill to allow victims to testify.