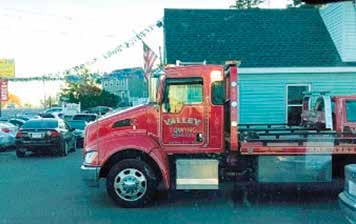 By Dalia Diaz
Valley Towing has been towing for Methuen and Lawrence Police for four decades and recently they have been the focus of television broadcasts in Boston. The reason is that residents who have been victimized by them are finally rising.
Besides the overcharges too often felt by residents after an accident or breakdown, there's enough documentation on the system used to sell cars not belonging to them. If you think that your car is safe after an accident or it was towed for any reason and you will be able to retrieve it from the towing company once the charges and storage are paid, you have to read this. Better yet, go to www.where-is-my-car.org to read stories from victims, how the scam works and your legal rights, among other things.
For example, in December of 2016, Christopher Nesbitt was involved in an auto accident in Methuen and his 1997 Honda Accord Wagon was towed by Valley Towing. The settlement with the insurance company of the car that hit him took longer than expected and, in the spring of 2017, Valley sold the car to Frams Auto, a junkyard in Methuen, before the insurance company even paid for the towing and storage bill, and without a title which is required by Massachusetts Law.
Chris reported this to the Methuen Police who told him it was a civil matter. After the insurance paid Valley for the towing and storage, they were required to release the car to Mr. Nesbitt, however, they no longer had possession of the car.
A couple of months later, Valley advertised the car for sale in the Eagle-Tribune, and applied for a title by filing a form with the Mass RMV claiming they could not find or contact the owner. A title was issued to Ronald Parrino, owner of Valley Towing, who is also Chairman of the Methuen Licensing Board.
Mr. Nesbitt filed a private felony criminal complaint in Lawrence District Court for the theft of his vehicle by Mr. Parrino, which was heard by the Clerk, Keith McDonough, and dismissed. It has not been made clear the reason for the dismissal.
Mr. Nesbitt has filed a lawsuit against the City of Methuen, Methuen Police, and Valley Towing for 5.5 million dollars claiming a violation of his civil rights by their policy of failing to protect him and others from the predatory business practices of Valley Towing.
Another case you'll find on that website is that of David Lee who manages the property next door to Valley Towing. In the spring of 2017, his unregistered plow truck was taken from the property and also sold to Frams Auto, where it was being stripped and junked. Mr. Lee reported the theft to Methuen Police who investigated, determined Valley had in fact illegally taken Mr. Lee's truck, and sold it to Frams auto.  Both Mr. Parrino, the owner of Valley Towing, and George Dufour owner of Frams Auto, admitted to police that the vehicle was indeed sold to Frams, without a title, which is required under Mass Law.
After a second investigation, Mr. Parrino was charged with two felony criminal counts for stealing Mr. Lee's truck, but after being sent to a Clerk Magistrate hearing, where it was also heard by the Clerk, Keith McDonough, and the charges were dismissed. No charges were ever filed against Frams Auto or Mr. Dufour.
Mr. Nesbitt and Mr. Lee believe Frams Auto is an illegal chop shop.
During this past winter, Valley Towing was caught overcharging Lawrence residents for storing vehicles towed during snow removal in Lawrence.  The vehicles are required to be in a secured lot in order to charge $35 a day for storage; however, the vehicles were being left in an open parking lot behind St. Lucy's Church in Methuen. The storage rate for vehicles left in an unsecured lot is only $17.50 per day, but Valley was charging the full $35 and claiming they were unaware of the law.
After several stories in the local newspaper and Boston television stations, the City of Lawrence suspended Valley from the police towing rotation, and it was then learned that Valley had been operating without a contract with the city for almost a decade.  The Mass Department of Public Utilities or DPU, who have oversight over the involuntary towing of motor vehicles, began an audit of Valley Towing's irregular towing practices which is currently ongoing.
Since that time, Valley has started filing small claims cases against individuals who have been towed and haven't been back to pay for or pick up their vehicles.
One particular case involves a vehicle towed by Valley during the Methuen snow parking ban, and left at Heavenly Donuts in Methuen.  The owner located the vehicle in this public lot the next day, unattended, and took the vehicle.  Several months later, in February Trevor Lawrence, an employee of Valley Towing filed a small claim against the owner stating that they had possession of the vehicle, the owner never came to claim it, and the balance for the towing and storage was over $1000.
After Mr. Nesbitt made a Facebook post stating that "Valley is suing a victim", Trevor Lawrence, reported the vehicle stolen to Methuen Police. Mr. Lawrence stated to the officer that he had recently seen the vehicle at Methuen Motor Mart where it was being stored, and that someone had tampered with the lock and chain at that facility and taken the car. It was all a fabrication because the car was never there.
Upon further investigation, Officer Quinlan of the MPD determined that Mr. Lawrence's story was not credible and no charges were filed against the vehicle's owner. The small claim case will be heard in Lawrence District Court on April 9th as well as several others.
There is hope
Mr. Nesbitt created a website about all of this, www.where-is-my-car.org.  He has been helping many of the victims and has been the driving force behind all of the media attention.  According to Mr. Nesbitt, he is helping around 20 victims. He claims Valley Towing illegally disposes of vehicles without applying for the titles or reporting the vehicles to the registry as JUNKED.   Although he is not an attorney, the law allows non-attorneys to represent crime victims and he is willing to do so if Valley Towing takes anyone to court.
Further, Mr. Nesbitt says that the Essex County District Attorney's Office and local and state police departments as well as the MA Attorney General are not helping the victims. Mr. Nesbitt reached out to Assistant District Attorney Lindsay Nasson several times but she refused to help. And the case with Methuen Police and Trevor Lawrence, that is now under review by Assistant District Attorney Tim Prather.
According to Mr. Nesbitt, if anyone has a Valley Towing receipt, you were most likely overcharged. You may reach out to him for help reviewing your receipt to determine if the proper procedures were followed and the correct charges applied.  His email address is chris.nesbitt.sr@gmail.com and his phone number is 978-305-3622.
Other victims have come forward stating their vehicles were damaged by Valley Towing and Mr. Nesbitt has enlisted the help of a licensed appraiser who can make a repair estimate which can be taken to an attorney who can file a consumer complaint against Valley Towing under Mass General Law 93A to recover the cost of the repairs. There is no charge as attorney fees are paid by Valley if they lose the case.
Mr. Nesbitt has enlisted the help of Lawrence Attorney, Ms. Sandra Gutierrez whose office is representing several victims. She can help with legal advice and filing consumer complaints against Valley Towing and Frams auto.   Her telephone number is 978-655-2868.